It's no secret that weddings cost a lot of money. In fact, the average price of a British wedding is £27,161 – as much as a year's average salary in the UK. Although you don't want to ruin your wedding day by cutting costs dramatically, there are some simple ways to save on your wedding day.
Here at ClearScore we have selected 5 easy tips to save on your wedding day:
Set out your maximum budget
Set a budget and stick to it so that costs don't spiral out of control. Not just a rough figure, but actually taking the time to sit down together, evaluate what you can each afford and confirming how much other family members might be able to contribute.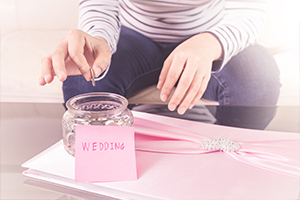 Choosing the right reception venue
The venue can use up half of your overall budget, yet it's also the place where you can really cut costs without looking cheap. When looking to hire a venue avoid saying it is for your wedding, as venues tend to charge a premium for weddings. Don't be afraid to think outside the box and move away from traditional wedding venues; pubs, restaurants and community halls can make great low-cost venues. However, you'll need to strike a balance - if the venue is shabby, any savings may be outweighed by the cost of decorating it appropriately.
Consider a winter wedding
By avoiding the most popular wedding times of spring and summer, you immediately cut down on the sky-high rates that venues charge. Winter doesn't have to mean bleak and miserable, it can mean cosy, warm and rustic.  Similarly if it isn't too much of an inconvenience for you and your guests, consider getting married on a weekday or swapping it to a Sunday; these options are often significantly cheaper than the popular Saturday slot.
I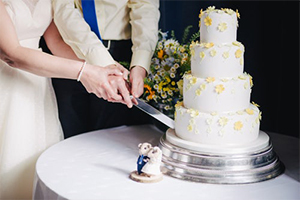 s a wedding photographer essential?
Wedding photography can cost upwards of £500. You can bring this down without skimping by hiring a hobbyist or a pro who doesn't specialise in weddings. Alternatively, consider creating a Facebook group where guests can upload their own smartphone pics and videos.
Be Creative
Things like wedding invitations and decorations can cost an excessive amount, so why not try making your own? If you don't feel confident enough to do that, you could send out email invitations instead – that way you'll save on the cost of postage too.
Similarly, it might not be necessary to fork out on a wedding DJ. If you know all the songs that you want to be played, take the time to create your own playlist and you could invite your guests to contribute to the playlist if they fancy!
For more information on how to save on your wedding day visit ClearScore here 
Event Date:
Friday, May 4, 2018 - 10:15