A feature wall is a great opportunity to add character to your wedding without splurging out and spending too much of your wedding budget. Here are a few DIY feature wall ideas to make your special day even more beautiful.
Let the wall bloom
Kim K married Kayne in front of a flower wall in 2014. If that's not enough reason to consider your own flower wall, we don't know what is. 
A flower wall can be a beautiful backdrop for photos of yourselves and guests. Choose flowers (real or fake depending on your budget and accessibility) that will compliment the theme of your wedding. 
Another creative idea, if you prefer more of a rustic feel rather than romantic floral - choose tall tree branches and place them alongside the aisle to create an outdoors feel.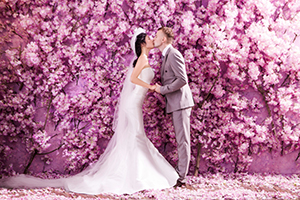 Light up the room
Fairy lights or a twinkling light feature wall is a way to add a bit of magic and romance to the room. Great for photo opportunities and setting the overall mood in a dimmed room.
Many hotels and wedding decoration suppliers now offer fairy lights backdrops, so before DIYing, this one consults your venue.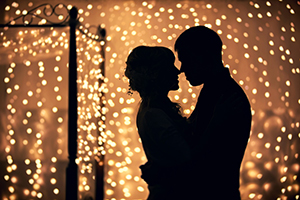 Showcase your story
A great way to show your love and tell the story of your relationship is creating your own photo collage feature wall for your wedding with classic square prints. A journey through your love story for all to see and admire on your special day!
A wedding day is a day for two families coming together, uniting for eternity. A beautiful idea for a wedding feature wall is showcasing that family tree, and the two families joining together, complement an illustration of an elegant tree with photographs of family members on the branches.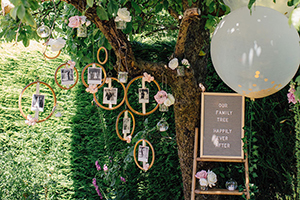 Language of love
Feature a meaningful quote on the feature wall at your wedding - this will help set the mood but also provide a minimal and rustic background for photos. 
If you'd like you could task your guests to leave a comment, quote of well wishes on the feature wall as well as a forever souvenir for the happy couple, this also will work beautifully as a backdrop for photos.