Fancy an impressive gift which will be useful for the planning of your wedding? Rhys Jelley, co-founder at Bride to be Box, explains why you should think outside the box…
Tell us about yourselves…
My wife Harriet and I met at university in 2007, where Harriet was studying for a degree in media and public relations and I was studying for a degree in international business management. After we graduated in 2011 we moved to Guernsey, where Harriet grew up. Harriet now works as an account director for a leading PR agency and I head up the partnerships and retail team for a large vitamin and supplement brand.
Why did you decide to start up the Bride to Be Box venture? 
We'd been considering launching a subscription box service for some time, and were actually investigating a confectionery subscription. But the light-bulb moment came after we got engaged in Paris. As soon as Harriet mentioned a bridal subscription box we got very excited and when we returned from our holiday and used PeoplePerHour to get our logo designed and to begin researching our boxes.
Getting married is such an amazing milestone in someone's life, but it can also be pretty stressful (we got married in August this year – so we know!). We wanted to create something that was both helpful and fun for brides. Unlike a lot of bridal subscription boxes, we try to avoid samples, and like to include products that brides can use on their wedding planning journeys.
What different type of boxes do you offer and what do they contain?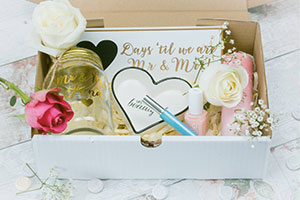 Our full subscription is made up of six boxes, each themed to a different stage in the wedding planning process. The box themes are as follows:
Box 1 – You're Engaged
Box 2 – The Planning Begins
Box 3 – Bridal Bootcamp
Box 4 – The Hen Do
Box 5 – The Big Day
Box 6 – Happily Ever After
At the moment, the boxes are aimed at brides, but we are looking into different products that we might introduce in the new year.
How do people order a box, and how much is delivery?
Customers can subscribe or purchase one-off boxes via our website. We also offer a limited number of one-off boxes on Etsy etsy.com. Each box costs £34.95 with free P&P.
What do you have in store for the future of the Bride to Be Box? 
We've just launched a new mini-subscription which is made up of our three most popular boxes, the perfect gift just in time for Christmas. In the New Year we are planning to launch some new boxes, one in particular will be aimed at a new audience– we can't give too much away but we're very excited so watch this space!
See the website for more details on the Bride to Be Box.
Event Date:
Friday, October 19, 2018 - 15:45