Fragrance experience designers Design In Scent have collaborated with royal milliner Jane Taylor to launch the UK's first scented wedding hat collection – a beautiful way to mark the big day and continue remembering it long after it's over…
Looking for a unique way to remember your – or a friend or relative's - wedding day? Then it could be time to invest in a scented wedding hat. The brainchild of fragrance designers Gemma Hopkins and Meghan Fay – aka Design In Scent – and Kate Middleton's milliner Jane Taylor this exquisite Winter collection of scented hats is cleverly infused with perfume from the Design In Scent Wedding Collection.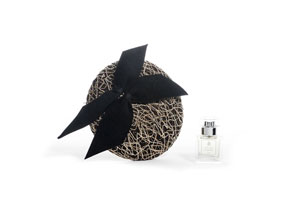 The hats are fragranced using a square of absorbent material that is impregnated with Design In Scent's Frosted Veil or Spiced Embers Eau de Parfum cunningly concealed in a little hidden pouch. To keep the fragrance topped up you simply slip out the piece of material, give it a spritz put it back in and your hat is beautifully scented again. As Design In Scent founder Gemma Hopkins says, 'For us, fragrance is an art form with its ability to evoke emotion. Designing a hat to harmonise perfectly with a fragrance is a truly exciting merging of two artistic expressions, enabling the wearer to feel a yet deeper sense of what the piece is styled and chosen to convey'.
When Jane Taylor is not designing hats for royalty including Kate Middleton, the Duchess of Cambridge and Princess Eugenie and celebrities like Paloma Faith and Rita Ora most of her clients are mothers of the bride or groom or women who are simply looking for a bespoke hat. To add to the
sense of uniqueness the Design In Scent fragrance experience is there to impart a kind of 'limbic memory' for the hat wearer to help them re-evoke the special day and help transport them back to it again and again through the medium of smell. As jane Taylor explains, ' My hat collection for Design In Scent embodies the perfect combination of winter scents and beautiful headwear, giving the wearer the opportunity to add a wonderful fragrance to the hat during each wear. The hats, hand crafted in Chelsea, offer two unique styles for brides. The two bridal frosted veil imbued hats sparkle with Swarovski crystals while the two Spiced Ember infused headpieces add jewel hues to winter brides.'
Each wedding hat is available in ivory, navy and black and each comes with a 15ml Design In Scent Eau de Parfum. The hats cost from £345 and Design In Scent Frosted Veil and Spiced Embers are £90 for 100ml Eau de Parfum.