Renaissance Tuscany Il Ciocco Resort & Spa is the perfect romantic wedding and honeymoon destination. The hotel is nestled in the hills of the Serchio Valley in Tuscany, located on a two-mile estate with sweeping views of the countryside. The resort is just one hour from the beautiful cities of Lucca, Pisa, and Florence, and the surrounding areas provide excellent hiking trails among the rugged landscape.
Recently featured on the US romantic hit TV show, The Bachelor, the traditional Tuscan setting offers the perfect place for a couple's retreat, whether you are newly together and looking for your first holiday or you just want to spend some time with your loved one in one of the most romantic parts of the world.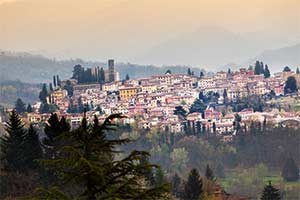 To celebrate the amorous location, the charming Renaissance Tuscany Il Ciocco Resort & Spa have launched the Retreat to Romance package which includes a couple's cookery class where you can learn how to make authentic Italian pasta as well as traditional romantic dishes from the local region. Daily breakfast in bed, a 60-minute couple's spa treatment and use of a private candlelit Jacuzzi are also included within the two-night escape.
Tuscany has the perfect backdrop for any wedding photo's
The hotel is also available to host weddings, both religious and secular, and has a variety of venue options. Ceremonies can be arranged anywhere within the vast estate property, whether you want to get married on the terrace overlooking the rolling hills and vineyards or in the lush grounds. If a church wedding with a Tuscan backdrop is your dream, look no further than San Nicolo, a church in Castelvecchio Pascoli, a short ride from the resort, or Barga Cathedral, located nearby. If a civil ceremony is what you're after, the resort boasts beautiful terraces, gardens, and venue spaces.
With a dedicated in-house wedding planner, planning your big day will be taken care of, from photography to flowers and entertainment to babysitting, all services are available at the resort.
Additionally, the wedding party will be catered by the on-site culinary team who can create the perfect feast for the day. Traditional Tuscan dishes are available, as well as different ethnic meals in cooperation with the chef team. Your ideal wedding cake can also be created by the resort's Pastry Chef Gianbattista.
Renaissance Tuscany Il Ciocco is easily accessible for you and your wedding party too, you can fly into Pisa International or Florence International served by major airlines, including British Airways, KLM, Lufthansa and Delta, with under 1.5 hours transfer time to the resort.
For more inforamtion on having your wedding at Renaissance Tuscany Il Ciocco Resort & Spa in Tuscany click here.