Getting married soon or planning to attend a summer wedding? It may only be February, but if you're a Bride, Mother of the Bride, part of the wedding party or even just a guest, it's important to start planning your outfit now, including your choice of wedding hat.
Weddings can be expensive so planning in advance should save you both time and effort in the lead up to the big day. 
One of the most important parts of any wedding outfit, of course, is a great hat. 
A beautiful hand-made hat will finish off any wedding look perfectly and with hats set to be a huge trend for 2018, Beverley Edmondson from www.beverleyedmondsonmillinery.co.uk reveals her top tips:
Wedding hat trends of 2018
​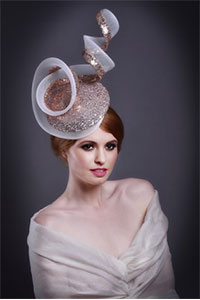 Colours
Beverley comments: "In 2018 we expect to see bright and bold colours everywhere, but don't worry if your tastes are a little more subdued, darker and duskier colours will be fashionable too.
"Try wearing the same colour but in different shades, so if you are planning to wear a turquoise dress to the wedding, match it with a dark, moody, azure blue hat to make an impact and look bang on trend.
"Colour blocking is another huge trend I'm predicting for 2018. Sunshine yellow is very in at the moment and would work well with a blue dress and complementing shoes. Be brave and experiment with colours, you'll be surprised at what works."
Royal Wedding and Royal Ascot
Of course, the Royal wedding of the year is just around the corner and there will no doubt be some fantastic hats on display on the big day!
Beverley adds: "The colour of hats at Royal weddings, traditionally, tends to be more subdued so as not to take attention away from the bride, but unusual shapes will remain on display this year.
"To emulate this trend, go for pastels so that the emphasis remains on the shape.
"Royal Ascot is another event that is almost as famous for its hats than horses, so expect to see far more brightly-coloured hats on display
Sizes and fabrics
"Hat brims will be getting much bigger this year, as more and more young people realise that an off-the-peg fascinator doesn't have to be the go-to wedding accessory of choice.
"Big brimmed hats made from materials such as leather, Perspex or laser-cut fabrics will add an edgy and modern twist to any outfit.
"Hats in 2018 will also come in metallic and other unusual finishes, really bringing the art of millinery into the 21st century