Every bride and groom want their guests to have an amazing time at their wedding. However, making sure that such a large mix of people have a fun and memorable time all day long can be tricky. Have you considered creating your own selfie frame to entertain your wedding guests? Fun to use and easy to get online, selfie frames today come in a variety of customised designs to suit individual weddings. If you want something quirky to add excitement for your guests, these are fast becoming a must-have item. But why are they so popular?
What makes selfie frames so popular
Mark your big day in a special way
This is one of the most important days of your life, which means you should strive to make it special to you and your partner. The beauty of a selfie frame is that you can put your own stamp on it — like name, date of wedding and the venue — to tailor it to suit your big day.
A wedding selfie frame helps create a long-lasting memory. Choosing your frame and posing for a photo can help bring family members and friends who haven't seen each other in a long time back together, as well as help break the ice of people in your life that have never met before! And lastly, selfie frames create cool and quirky photos that guests are much more likely to keep.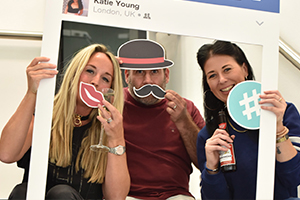 Let your guests shout about your big day
You're bound to have seen selfie frame photos all over your Facebook page already. The selfie was born on social media, so it only makes sense that the selfie frame looks equally incredible on this platform.
Offering your guests a selfie frame to pose with will mean they're likely to upload what an amazing time they're having to their accounts — and we all know that, as a host, you probably secretly want everyone to know how much fun your guests are having. Luckily, the selfie frames' popularity as a social media image means that your guests quickly share their good times with everyone on their friends list.
Even better, you can have stacks of fun looking over the selfie frame snaps from the previous evening and reminiscing about how good it was!
Keep everyone entertained for hours
For a touch of personality and an easy-to-use frame that all guests can get involved with, it has to be a selfie frame. Don't worry about keeping people entertained throughout at your wedding — which can be tricky considering receptions can last several hours! Just set up a few frames and a camera in one section of your venue, then let the guests enjoy capturing the moment in style.
Don't break the bank
If you don't have a very large budget, save money on the entertainment. With low online prices and the chance for free customisation and delivery, selfie frames are a great alternative to hiring a singer or DJ. Considered a photo booth? Although these are popular ideas for a big birthday bash or wedding reception, they can cost anything between £200-£400! Selfie frames do the same job at a fraction of the cost, and again they can be customised for your event.
Make your wedding unforgettable for everyone with a customised wedding selfie frame!
For more information on selfie frames you can visit here.