Ultimately, your wedding is meant to be a day of celebration with your loved ones. However, planning for the big day can be notoriously stressful as you try to organise the details against the clock while your savings rapidly disappear. Newlywed Shane Clifford – Co-Founder and CEO of household bill management app, WonderBill – shares his tips on how you can make your special day a fairytale wedding, but on a budget. After all, your wedding doesn't have to be a blowout in order to be special.
Planning a fairytale wedding on a budget
DIY is your friend
Not only is DIY a great way to spend an afternoon with your spouse-to-be or best friends, it's also incredibly cost effective. Instead of spending hundreds on printed invitations, why not opt for hand written, personal ones? You can also save money by asking for the help of your professional friends as wedding gifts. If you've got a friend who makes incredible food, perhaps ask for them to help provide a buffet or cake, or maybe your friend would be willing to get ordained and marry you!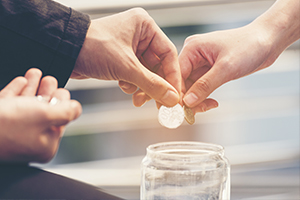 Start saving early
Part of your married life is going to be managing your joint finances, so use your engagement as a practice run. To give your wedding savings an added boost, see if you can start budgeting everyday life expenses better. Start with your household bills - you can use WonderBill to manage your household bills and even find opportunities to switch to new contracts and save money. There are plenty of other ways you can cut down on your monthly outgoings too, try cutting down on takeaway coffees and take home-made lunches to work. Also remember to cancel any old subscriptions you're not using, all the little things soon add up!
Stay stylish on a budget
One of the most exciting parts of getting married is picking what you'll be wearing down the aisle, however not everyone can afford to be dolled-up in layers of designer lace and chiffon. Finding something you're happy with doesn't have to break the bank. If you're not attached to a white wedding with tailor made outfits, you can find plenty of well made, beautiful dresses and suits on the high street. As long as you feel comfortable and special in what you're wearing, that's the important thing.
Keep it personal
Make sure your big day doesn't get bigger then you can afford. Sharing your day with everyone you've ever met might be tempting but it'll really push the cost up. Keep your guestlist for the ceremony reserved for just family and close friends and host a larger evening do for other guests. Sometimes weddings can get a little political but remember it is your day, so only invite the people you really want to share your day with, rather than who your parents or friends think should be invited.
Location, location, location
Undoubtedly, one of the most expensive parts of a wedding is the venue. Choosing a big venue in the height of summer? That's going to burn your budget fast. Opting for a more modest venue at an off-peak time can save you a lot of money. Why not have a winter wonderland theme or even a Halloween theme? If you've got friends or family with access to large outdoor spaces like fields or back gardens you could even ask them to host your day as a wedding gift.
Now that you're ready to plan your special day, the biggest thing you should remember is to enjoy it. I'm a newlywed myself and although I loved my wedding day, it's just one day and no matter how much you spend, you'll still get to spend the rest of your life with the person you love most and that's pretty amazing!
To budget for your fairytale wedding with Wonderbill visit here.