Don't forget your bridal nails - Your wedding day is one of the most memorable days of your life, it is important that you feel happy, relaxed and confident so you are able to enjoy this special day. Organising a wedding can become a huge task from selecting the venue to organising the flowers, wedding rings, wedding cake, wedding cars, bridal dress, bridesmaid dresses, bridal hair and make-up, the list is endless! Once you have started your wedding preparations, it is time to turn your attention to your bridal nails to ensure they look their best when you exchange rings and say 'I do'. 
Create beautiful Bridal Nails in 3 easy steps with Dr.'s REMEDY Enriched Nail Care: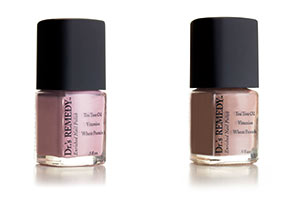 Step 1:
Apply Dr.'s REMEDY Basic Base Coat, £11.95 – A Clear Base Coat enriched with Organic Tea Tree Oil, Garlic Bulb extract, Lavender, Wheat Protein and Vitamins C and E.
Step 2:
Apply Dr.'s REMEDY Enriched Nail Polish, £11.95 – Choose from a selection of exquisite bridal nail shades that match your wedding colour scheme enriched with Organic Tea Tree Oil, Wheat Protein, Garlic Bulb extract, Biotin and Lavender that will add a beautiful pop of colour and deliver a high-shine finish for a long lasting look.
Step 3:
Apply Dr.'s REMEDY Calming Clear Top Coat, £11.95 - An enriched top coat that finishes your manicure or pedicure with the perfect level of shine and durability to ensure your nails look fabulous for the big day and on your honeymoon.
The Treatment
Give your bridal nails some TLC with Dr.'s REMEDY Hydration Nail Moisturiser, £11.95, a natural nail conditioner with Biotin (part of the complex of B vitamins, improves nail strength and durability) and Pentavitin (helps to deliver and retain moisture). Hydration is also enriched with whole wheat protein and four major vitamins. This clear coat helps moisturise, strengthen and protect the look of nails. Wear alone as a treatment or as a base coat under your favorite shade. For best results use alone for the first few weeks, apply twice a week.
For UK stockist please visit here.