Adam Chard, Bathroom Expert at VictoriaPlum.com, talks with us about how to get the perfect wedding bathroom picture.
It's quite possibly the biggest day of your life. You've spent not months but years preparing for it, making sure every single detail is just right. On the morning of your wedding day, your photographer turns up to document those all-important, "getting ready" moments with you and your girls, but, oh no! The bathroom is a frightful mess, providing a less-than-glamorous backdrop to all those precious memories.
With the rise of social media, many modern-day brides (and grooms!) are looking to capture all aspects of their wedding day, from the moment they wake up to the minute they finally step over the threshold as partners for life.
It's all too easy to get swept up in focusing on the bigger picture, like the ceremony and reception venues. However, the place in which you begin the day will certainly need some attention too.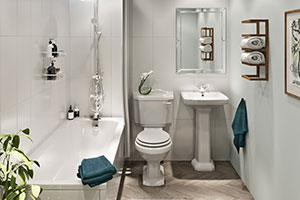 OK, ok, it might not be your own wedding bathroom suite that needs a little TLC, as you may be staying overnight with your parents, at a friend's home or even in a hotel. However, there are some quick tips you can follow to make it the perfect place for those must-have bathroom selfies.
Does it need a refurb?
The first thing you'll need to ask yourself is, can you work with what you've got? With a tired old bathroom that looks outdated, cosmetic touches may not be quite enough to paper over the cracks.
If it's your own bathroom, a new toilet and basin combination could be just enough to give your bathroom a much-needed refresh. It's also incredible how a lick of paint and new taps can work wonders, adding sparkle to your space. Why not set a small amount of budget aside for minor bathroom improvements?
Get the light right
First off, a dark and dingy bathroom will produce dimly-lit, poor quality pictures, so you need to use both natural and artificial light to your best advantage.
There are many indoor photography lighting tips you can follow, however, if you're using a professional photographer, they should be able to advise you on achieving the best results.
Make sure there is a way to filter bright sunlight, like a blind or window covering, to prevent glare, whilst ensuring you have enough artificial light for perfect pictures. A good way of doing this is by supplementing your main lighting fixture with an LED mirror (a battery-operated model is easy to fit). This will also help when applying makeup.
Cleanse and de-clutter
With a week to go before the big day, it's time to roll up your sleeves and give that wedding bathroom a deep cleanse.
Start by moving everything that isn't fixed down out of your bathroom and throwing away any empty containers or anything you simply haven't used in the past 6 months. Bring sparkle back to taps and chrome fittings by using a water and vinegar mixture. Wipe furniture and give any glass surfaces a thorough clean, not forgetting to use a squeegee to get rid of excess water and wiping down with a soft cloth to avoid smears and water marks.
If you have mouldy grouting, get a stiff brush and apply a solution of 1 part bleach to 3 parts water.
Make sure, when you return your items to their various positions, everything is stored neatly and conveniently. After all, you don't want to be panicking when you can't find your hair grips! Use labelled jars and storage containers to store smaller items.
Accessorise to your heart's content
If you have a theme to your wedding, it's a great idea to accessorise your bathroom accordingly, adding a consistent and coordinated touch to the photos from your day. Add ribbons or bunting to furniture and walls or display some pictures of friends and loved ones, to show that they are in your thoughts. If you have items or mementoes that have special meaning to you and your partner, why not display them on shelving around your bathroom?
To set the scene, make sure your toilet seat is firmly down (I mean, who wants to see the inside of the pan?), all non-essential items are concealed from view, and all your towels and robes are neatly folded.
With your perfect wedding bathroom makeover complete, you're now ready to pose for those all-important bathroom selfies, creating memories which will last a lifetime.