Being a Best Man these days is a tough ask. From the stag do to the wedding day itself and all that comes in between, the Best Men need to be on top form throughout. 
If there's a crisis, it's up to the Best Man to resolve it. If the groom gets cold feet, it's the job of the Best Man to talk him down. And if Carol, the bride's closest pal, has a drunken teary moment about how she's destined 'to be alone forever', you've guessed it, it's the Best Man's responsibility to take her for a twirl round the dancefloor. 
With the scale of the job in mind, leading stag and hen travel experts Red7 recently scoured the country in search of Britain's Best Best Man. With tales of everything from surprise giant Alhambra tortoises as guests of honour at the wedding to a member of the stag party stranded abroad and the tailor losing the bridal party's suits 24 hours before the nuptials, the judges were inundated with examples of outstanding Best Men.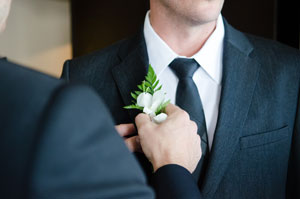 From hundreds of entries, Red7 whittled it down to seven exceptional regional winners and from there, there was one stand-out national winner, Sean Keenan, representing the South West. 
Sean brought a whole new meaning to the title Best Man, averting not one but two pre-wedding crises, giving groom Thom a stag weekend to remember, organising a very stylish Tag Heuer watch as a gift from all groomsmen, delivering a first rate Best Man speech… the list goes on. But what makes Sean really special is that he did all this while training to climb Mount Kilimanjaro for charity! 
With the job of Best Man becoming increasingly important, the nation's Best Best Men have offered up their top tips: 
Plan early!
"Make sure you begin planning months in advance", says Spencer Broughton, the Midlands' Best Best Man, "from organising the stag do, to preparing the Grooms breakfast on the big day, there's always going to be something that you forget…"
By starting to plan from the outset, there's less chance of overlooking key moments or events – and a greater likelihood that you will be able to enjoy the proceedings too!  
A few hours early on spent planning and organising will pay huge dividends later on in the process. 
Be flexible
"Obviously planning is essential", Spencer continues, "but sometimes you have to plan to just wing it!"
You can plan as much as you like, but as Best Man, you'll be dealing with lots of different people who all have their own social lives and priorities – and they won't all always fit in with your plans. Sometimes, you'll just have to suck it up and hope for the best. 
Don't think you can wing your speech
There are, however, occasions where winging it would be a bad call, namely your speech. The Best Man's speech has become the stuff of legend – nail it and you will be lauded forever, miss the mark and you might just bring a cloud over your best mate's special day. 
"The Speech!", exclaims Britain's Best Best Man, Sean, clearly still slightly terrified by the concept. 
"Start preparing as early as possible! Nerves come from inexperience and, as most people dread the speech, it tends to be shelved until the last minute. It's a lonely place up there if the tumbleweeds appear – and nobody can dig you out of the speech if it starts going south. But if your speech is practiced and rehearsed it becomes almost second nature. You'll enjoy it, rather than counting the minutes until it's over!"
Make it memorable – for the right reasons
While some girls spend years dreaming of their perfect wedding dress, some guys will be thinking about their stag do. 
For Peter Grant, the North East's Best Best Man, it was all about giving his mate the ideal send-off to married life: "Take your stag to do something he will truly remember and enjoy. He will thank you for it!" 
Even if you've always wanted to do a helicopter ride over the Grand Canyon, if the groom is afraid of heights, take it off the 'stag do' cards immediately. 
Don't be afraid to ask for help
You might have the title of Best Man, but that doesn't mean you have to do everything singlehandedly. 
Sean's tip is to enlist the help of other groomsmen for the stag do: "The stag do is important – but you have your wingmen to help out with that. Delegate to them, while you get stuck into the speech!"
If you're concerned about leaving it in the hands of your fellow groomsmen, getting a professional in to organise the stag party will take a lot of weight from your shoulders. 
Keep calm, no matter what 
"It's the Best Man's job to adapt to a new situation, then pretend that it was in the plan all along…" adds Spencer. 
Sean earnt his Best Man stripes by keeping calm in the face of lost suits for the groom and groomsmen – rather than panicking, he got in his car and drove the two-hour round-trip to get it sorted. 
If you're not cool in a crisis, you need to work on your poker face before becoming a Best Man – the bride and groom will be relying on you to keep everything on track, regardless!
Spare a thought for the bride
As silly as it may sound, you're not just the groom's Best Men, you're the bride's too…
If you're thinking about making fun of the groom in your speech, pretty standard from a Best Man, make sure you're only poking gentle fun. No debauched stories that will make the Christmas with the in-laws a nightmare. No anecdotes that will infuriate the bride and see your mate spend his wedding night on the sofa. 
Keep the bride in mind throughout – after all, it's her special day too! 
Besides, she's marrying your best mate so chances are you'll be seeing a lot more of her. Keep her on side and help create the perfect wedding day and she'll become a new friend in the process – not just your mate's wife. 
For more information on Red7 and its services, please visit www.redsevenleisure.co.uk.