There's no question that the vegan trend is on the rise; with more than 3.5million Brits now identifying as such, there's no sign of it slowing down anytime soon*. With more and more of us switching to a fully plant-based diet, there has also been a rise in vegan celebratory foods at parties and even prospective couples having a vegan wedding to fit their ethical beliefs.
The thought of a vegan catered wedding might conjure up images of raw crudités and vegetable cous-cous, but in fact that idea couldn't be more wrong, with vegan dishes spanning a huge variety of cuisines.
Hugo Campbell, Co-Founder of Feast It, the UK's leading event catering marketplace, predicts some of the delicious vegan dishes likely to be on the menu at vegan catered weddings in 2019.
What you could be eating at a vegan wedding
Vegan fried chicken burgers
"Vegan burgers can be just as 'dirty', if not more, than a meat option. Easily mistaken for the real thing, deep fried vegan chicken is just as succulent and tasty, making it  the perfect late-night wedding snack after an evening of drinking and dancing. Street food trader, 'Last Night a Vegan Saved My Life' work up an incredible seitan burger with crispy batter, vegan cheese and homemade sweet and spicy Carolina sauce that any guest vegan or not would devour in a flash!  Photo credit: Last Night a Vegan Saved My Life
BBQ Feasts
"Barbequed vegetables can be injected with packs of flavour, making them a substantial standalone dish. Outdoor barbeques are always popular at summer weddings, with the theatre of outdoor cooking exciting guests. Mediterranean veg such as peppers, aubergine and courgette are barbeque favourites. The Flavour Trailer's playful take on a smoked aubergine dish, 'the purple emoji', is bang on trend in the foodie scene this year." Photo credit: The Flavour Trailer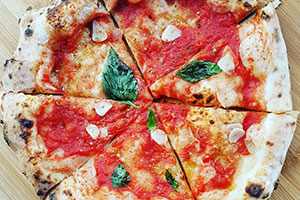 A classic stone-baked pizza
"Big, bold, sharing dishes are increasingly popular at weddings. The relaxed nature of everyone
diving in is a great ice-breaker and many people are opting for it instead of the formal 3-course tasting menu. Pizza is the ideal sharing food, and many sourdough pizza bases such as those served by Ped's Pizza, are in-fact suitable for vegans."  Photo credit: Ped's Pizza
Vietnamese
"Vietnamese is the perfect wedding cuisine, with a quirkiness and character that will impress guests, and dishes that aren't too rich and heavy on the stomach. Fresh and full of flavour, meat eaters won't be disappointed by vegan dishes made with crisp vegetables and tofu. Vietnamese offers a variety of dishes to create a unique wedding menu including gyoza dumplings, pho, summer rolls and banh mi." Photo credit: Vietvan
Posh crumbles
"Cute, individual desserts make a memorable ending to a meal for wedding guests. Crumble is a classic rustic pudding, but it can be posh, and it can be vegan. Humble Crumble take the old school dessert and give it a grown-up makeover, with vegan toppings available made using sunflower oil as an alternative to butter. A hybrid of a cocktail and a dessert, flavours include 'Gin Up' using Rhubarb Gin and 'Fizzicle', made with apples, strawberries and prosecco. Humble Crumble also uses plant-based compostable food packaging that decomposes within 8 weeks, making them a sustainable option too." Photo credit: Humble Crumble
About Feast It
Feast It is the UK's leading event catering agency, handpicking the finest quality food and drink suppliers for anything from a corporate Christmas party to a festival-themed wedding. Set up in 2017 by childhood friends Hugo Campbell and Digby Vollrath, Feast It now works with over 650 of the country's most exclusive food and drink outlets, from Michelin-starred restaurants to major brands like The Breakfast Club and Crosstown Doughnuts, as well as gourmet market stalls and food trucks serving unique cuisine and spectacular drinks.
2018 saw Feast It feed over 3 million people at weddings, private parties and company events across the UK, including celebrity clients Tom Cruise, Lewis Hamilton and Anne Hathaway. Corporate clients also included Disney, Facebook, Amazon, The Financial Times and Warner Bros. Whilst fundamentally an online marketplace for private party catering, Feast It has also branched out into large public facing events and provided food and beverages at the 2018 London Pride, Secret Cinema, and ZSL London Zoo Lates.
For more information, visit: https://feast-it.com/