They say love and marriage go together like a horse and carriage, and that's certainly the case in this instance, as two horses get married on a Somerset estate have found love amidst the current social distancing precautions –  in a luxury wedding venue, usually reserved for people.
 
Lewis and Fern are two horses that live in the grounds of Orchardleigh, a 19th century stately home, set within 500 acres of private parkland and lakes.
 
Ordinarily, Orchardleigh serves as a luxury wedding venue, but given the current coronavirus restrictions, human weddings are presently off limits. However, with Lewis and Fern having drawn close during the lockdown, the owners of Orchardleigh Estate, Chris and Heather Vincent, decided to stage an equine version of a wedding.
 
Heather an experienced horsewoman, who runs her own riding school, said: "With the necessities of social distancing meaning fewer people having to look after more horses, Lewis and Fern have spent more time together than usual. And during the past couple of weeks they've since started showing real signs of affection for each other. As Fern isn't in heat at the moment, we can't put it down to lust! So consequently, we think it's genuine love…and that gave us an idea."
 
Heather continued: "I remarked to Chris; 'Wouldn't it be funny if they got married, considering there's no weddings going on at the moment?' And then we thought, well why not? And before, you knew it, we were planning an entire big day!"
 
As a traditional venue, Orchardleigh has all the necessary features required to host a wedding, and Chris and Heather planned it properly.
 
Staging a proposal first, the horses were led to a suitably romantic spot in front of the estate's grand house where Lewis could pop the question, with a polo mint making do for a ring. After a touch of grooming at Orchardleigh Castle to get them wedding-ready, the horses trotted across to Elmhay Park, a separate venue within the grounds, to undertake their nuptials, or neigh-ptials if you will.
 
With the vows done, they newlyweds enjoyed a sumptuous three-course banquet by the lawn consisting of La Canape Carrots with Pony Nut Souffle, Hay Wellington, and Apple Crunch and Crushed Polo Mints.
 
To finish off their special day, the horses were led down to the lake for a swim, where they were within sight of the boathouse; an idyllic couple's retreat that usually serves as a place for newlyweds to unwind. In this instance though, the pair spent their first night of wedded bliss safely back in their stables, with yet more hay to celebrate.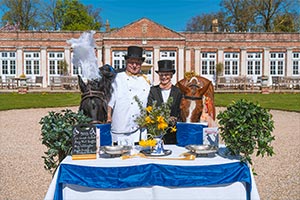 Chris Vincent commented: "Staging an equine wedding might sound a bit mad, but, given we're in lockdown, nothing seems normal anymore! Missing hosting actual weddings, we thought we'd do something that evoked all the sentiments of a wedding but keeping firmly within social distancing guidelines, while helping to spread a little light relief."
 
Alongside its magnificent main house, Orchardleigh boats a romantic island church, the secluded boat house on the edge of the splendid 35-acre lake, a private helipad, an 18-hole golf course and even a castle complete with an outdoor hot tub, offering practically limitless opportunities to tailor a wedding weekend to a couple's choosing…or in this case, a horse's. Eager for business to continue as usual where possible, the estate is currently arranging personal video tours for newly engaged couples looking to start planning their big day and interested in viewing the venue during lockdown.
 
For more information about Orchardleigh Estate, please visit the website https://www.orchardleigh.net/
Event Date:
Friday, May 1, 2020 - 11:00