The perfect lingerie is an underrated, foundational asset for ensuring you look and feel your best on your wedding day. Brides-to-be will spend months poring over wedding dress options, and in the stress of planning, completely forget about finding the right lingerie for their special day. Wearing the right underwear affects how your dress looks; bra straps and prominent panty lines can detract well-deserved attention from the gorgeous gown and ruin the desired look on your special day. Finding the right underwear varies from dress to dress, here Dorina lingerie share there specialist advice on choosing wedding lingerie.
Dorina's top tips for chossing the perfect lingerie
Wedding Day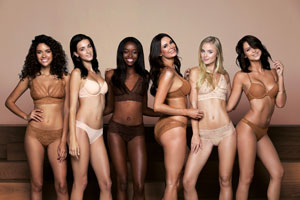 For Formfitting Dresses: If your dress hugs your body, your underwear should too. The best option for this type of dress is shapewear, as it will help keep everything in place. It is important that this shapewear does not have any frills or bulky details, as you don't want to risk them being seen through your dress. The Brigitte control briefs from DORINA are perfect for this style of dress.
For Seamless Dresses: With seamless dresses, it is so easy for your underwear to be visible through the single layer of fabric. To combat this, you need underwear that compliments your skin tone. DORINA's new Tone-On-Tone collection was created to help all women find the right nude underwear without compromise.
For Classic Dresses: For more classic wedding dresses that are made with heavier fabrics, there are less restrictions for the lingerie you choose to wear underneath. Take advantage of this wiggle room to find a pair that makes you feel confident (and comfortable). Frills, bows, and lacing are less likely to be seen under these materials, but you should still air on the side of caution as far as the colour goes.
Wedding Night
For your wedding day, functionality and comfort are your main goals in order to allow you and your dress to shine. Your wedding night, is quite a different story. In order to achieve the needs of both occasions, it is key to have a change of sexier, more risqué lingerie for the wedding night. DORINA's lingerie collections are sure to wow your new partner.