Buying lingerie for your wedding day can be quite a challenge for a number of reasons so we havewritten some quick tips to help you consider the different options and choose the right style for your dress. Don't be tempted to buy your lingerie before you have chosen your dress as you may find that its totally unsuitable and have to start over!
First of all you need to consider the fabric of your dress and whether the lingerie will show through. If your dress is made from a sheer smooth fabric then you will need to choose smooth lingerie or it will look uneven and spoil the line.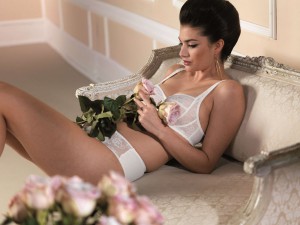 If you had your heart set on lacy lingerie then you could always have a prettier set in your overnight case ready to change into and impress your man. The most important thing is how it looks under your dress at this stage.
Cup size can sometimes dictate your bra choice as well particularly if you are blessed with a curvier bust and/or you are choosing a strapless wedding dress. You need to make sure that you are properly supported or the dress won't hang properly. The Rosa Faia strapless bra seen here goes up to a G cup and will keep you looking good all day. It's worth remembering as well that nude underwear will be invisible under white and cream fabrics whereas white could show through depending on your material choice. If you are smaller busted and worried about filling out your dress then you could look at padded bras or using inserts. Experiment with a few types until you are happy with the results.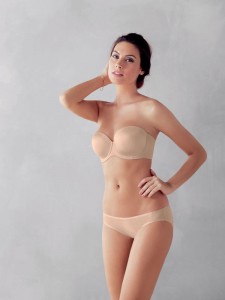 Whatever you choose for your special day, make sure that you are fitted properly as a badly fitting bra can ruin your entire look. There is a list of Anita stockists near you on our website, all of whom are experienced bra fitters and can help you choose the perfect underwear for your special day.