Low backs with intricate detailing
Stunning backs are an ever growing trend in modern wedding gowns. With your back turned to your guests for most of the wedding, brides love to have an intricate and beautiful design to accentuate the back as well as the front, wowing both their guests and their future partner.
Knutsford Wedding Gallery, Cheshire say "The trends for 2016 are heading towards stunning low backs, either sheer with delicate detailing or completely backless, allowing for beautiful elegance with a sense of drama"
Lace with a modern twist
Lace is a truly classic look for bridal gowns. Heading into 2016 wedding boutiques are seeing ever growing popularity of using lace with a modern twist; delicate lace sleeves, full lace dresses in washed shades of blush and sky blue, and even three dimensional lace with lots of texture, layering and fringing.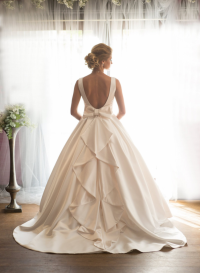 Copyright Maria Morris Couture 2016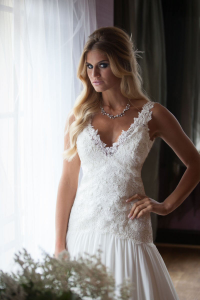 Copyright Maria Morris Couture 2016
Nigel Rayment Boutique, Manchester say "Our customers are excited when their dress can carry them from day to night, and with lace sleeves becoming more widely used and the use of subtle sparkle worked in, they feel able to transform into the reception"
Smooth Satins and structural Mikados
For 2016 the alternative trend to surface texture has become the classical smooth lines of Satin and firm Mikados. Silk Mikado is ideal for giving bridal dresses fantastic structure. Heavier than regular silk, Mikado is a great choice for wedding dress designs with clean lines. Ideal for brides choosing more minimalistic weddings.
Maria Morris Couture, Cheadle showcase this theme in their new Bardot Collection: "Our Bardot Collection is influenced by the classic lines and styling of the 1960s followed by a move towards softer early 1970s chic. Our beautiful ivory floral Damask has the light reflecting properties of satin with a lacey surface patten without adding any texture"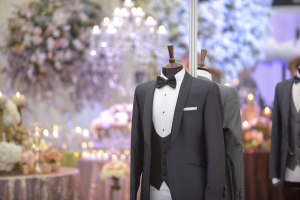 Groomswear trends
Groomswear is seeing a swing back to traditional outfits for 2016. Formal tails making a strong comeback for the New Year and will see the popularity of lounge suits dramatically falling. Grooms are heading back to sleek sophisticated cravats rather than choosing standard ties. Popular colours will however remain within Charcoal Grey, Navy and Black.
Groom Hire, Chester say "Our customers realise that they can wear a fitted lounge suit on any occasion from the races to being a wedding guest, so when it's their big day they want to feel completely different from their guests"
All boutiques can be found exhibiting at:
Bride: The Wedding Show, Tatton Park, Knutsford, Cheshire, WA16 6QN - 
Saturday 6th February – Sunday 7th February 2016