By Caterina Alves, Head of Venues at RIBA
Did you get engaged recently? Congratulations!
We love hosting a wedding here at the Royal Institute of British Architects (RIBA) and this year is going to be no exception. Our team is already looking ahead to the wedding season and we have been pondering on what we think this year's nuptials will look like. 
So, without further "I do" (see what we did there?), here are our top three wedding trends for 2019 and beyond…
Themed weddings
A theme is a fantastic way to make a wedding even more unique and it doesn't have to be a tacky one! If you wince at the idea of a Disney centric wedding , you could opt for a bohemian style for your special day. Or you could pull together a twenties inspired reception to put all Gatsby parties to shame (which would go incredibly well with our Art Deco interiors, just saying). 
Festival feel
Rather than sticking to a set layout, more couples are opting for a "mash up" of event elements to give a festival feel and enhance guests' experience. For example, instead of a set menu there are a number of food stations where guests can tailor a dish to suit their tastes. And instead of one band or DJ providing the evening entertainment, couples arrange a series of acts, interactive games and photobooths to ensure that everyone has a good time.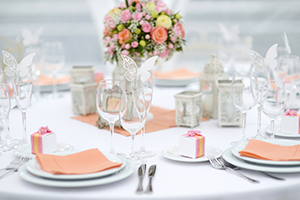 Bold and beautiful
At RIBA, we have seen brides and grooms getting braver with their fashion choices. At one of our favourite weddings, the bride opted for a bright red sequined dress! We anticipate that couples will continue to break away from traditional clothing choices to make a bolder statement.
To find out more about RIBA's wedding packages visit https://www.architecture.com/riba-venue-hire