At Sid & Olive Vintage Weddings & Events we've noticed a real trend of brides looking for an authentic rustic style for their big day. And with bookings well into 2017 for the look, it seems that rustic style is here to stay! So here are our top tips to help inspire you to achieve your perfect rustic wedding…
Natural Centrepieces: Why not create a real seasonal look to your tables by using Manzanita trees or twisted willow branches? For an autumn or winter wedding they look magical with glass tea light globes hanging from their branches.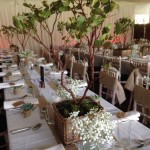 Hessian & Lace: We can think of no better combo to add an element of rustic charm to your big day. Decorate your table linen with rustic hessian runners, and ditch the standard organza chair bows in favour of hessian and a sprig of lavender or gypsophelia!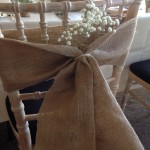 Mix Vintage Props with Rustic Settings:We love incorporating nature into our venue dressing wherever we can – don't forget about those beautiful outdoor spaces surrounding your venue. We recently created a lovely display of vintage picture frames hung in the trees, providing a nice display of old photos of the bride and groom, whilst also offering a cheeky opportunity for posing for snaps in the empty frames! Old wooden ladders make for great rustic-vintage style, and can be used as a display, or even a seating plan.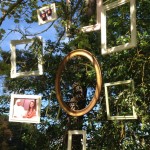 An Alternative Seating Plan: Why not go for something a little different to help your guests find their seats? Incorporating rustic props such as old wooden crates is a fun way of tying in your theme with a practical purpose.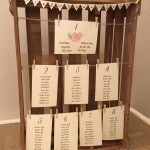 Natural Confetti: Many venues now don't allow traditional paper confetti due to its impact on the environment (and the mess). But that shouldn't mean you have to go without such a fun tradition. Try using natural alternatives to suit your rustic theme. Dried rose and delphinium petals look lovely displayed in little paper cones, or for something a little different try dried lavender. As well as being completely biodegradable, it will also make your venue smell divine!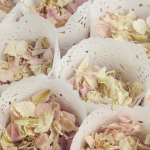 Sid and Olive Vintage Weddings & Events hire out a range of vintage, retro and rustic styled decorative items to give your day that extra-special look. Check out our website to see our full range! www.sidandolive.com.