Wheat is a beautiful natural crop that gives us so much, so why not use it on your wedding day. The perfect way to include a touch of nature, wheat is versatile and looks wonderful on its own or teamed with other dried or fresh flowers and foliage. As well as being renowned for their natural petal confetti, Shropshire Petals also grow wheat on their farm for their iconic wheat sheaves and wreaths. Here are their favourite ways to include wheat on your wedding day.
Bouquets and buttonholes
Break away from the traditional fresh flower bouquet by choosing a wheat sheaf to hold as you walk down the aisle. Whe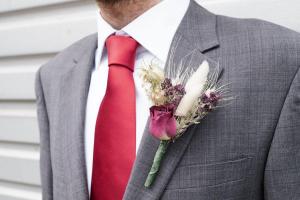 ther you select a pre-made wheat sheaf, which include a variety of dried flowers in a range of different colours or you make your own using a natural wheat sheaf, a wheat bouquet will not only look elegant, it will also last for years, making it the perfect keep sake from your special day. Continue the look with matching wheat posies for your bridesmaids and wheat buttonholes for your groomsmen.
The aisle
When you walk down the aisle, it will be the first time you see your partner on your wedding day, so make it romantic by lining it with pretty wheat decorations. Attach small posies of wheat and lavender tied with ribbon in your chosen colour scheme to the ends of pews or chairs. To complete the look, place several wheat sheaves featuring dried flowers and plain wheat sheaves at the end of your aisle.
Table décor
Wheat sheaves make idea table decorations. Use a wheat sheaf as your centrepiece on round tables surrounded by lots of tea lights and candles, or place several different wheat sheaves down the centre of long trestle tables for an interesting look. Add a touch of subtle colour by scattering some natural petal confetti around the bases of your wheat sheaves. Continue the wheat theme by attaching a wheat wreath to the end of rectangle tables with the table name tied to it for an alternative way for guests to find their table.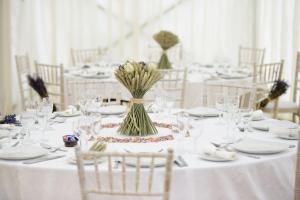 Finishing touches
Add delicate touches of wheat to your wedding by placing sprigs in glass mason jars with ribbon or hessian tied around them to display on window sills or other areas that need a touch of décor. Make your own decorations by creating small bunches of wheat, lavender and dried delphiniums to attach to stair cases, poles in a marquee or even the backs of chairs for your ceremony and reception.
Gifts
Unlike fresh flowers, giving wheat sheaves and wreaths to your bridal party as thank you gifts will be something they can keep and proudly display in their home to remember your wedding day by. You could add personalised touches for each recipient. If you are using wheat sheaves as decorations, you could also tell guests to take them home at the end of the day as an extra wedding favour.
Wheat is the perfect way to include a touch of nature on your wedding day. Shop the full range of wheat over at www.shropshirepetals.com.