Celebrating the precious moments that life gives us, ASTRA embraces every memory and makes sure it lasts a lifetime. Designing a world that allows you to tell your story through jewellery, with ASTRA, everyone has a story. 
LOVE 
Whether it's first love or love at first sight, ASTRA celebrates romance with key pieces themed around the feeling of never wanting to let someone go. The collection features designs such as the beautiful Infinity Heart, a symbol for love everlasting, a Double Heart, symbolising how two hearts intertwine and the Be Mine cupid and his arrow, to visualize how quickly one can be struck by the emotion. Ensure a piece of your partner is constantly with you with these timeless and emotive pendants, earrings and rings. 
WEDDING 
Preparing to embark on the most magical journey you can take with your loved one? ASTRA captures the joyful anticipation of jumping into the unknown together. Incorporating the infinity symbol, an unbroken line and ancient magical talisman A the jewellery represents the everlasting nature of love. Because, is there any moment more special than when your soul mate proposes? Or for you was it the first time you saw them as you walked down the aisle? Whatever you feel, we want to be right there with you. 
BRIDESMAIDS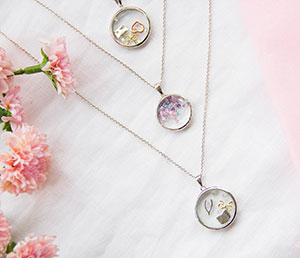 Want to show your bridesmaids just how much they mean to you and how much you appreciate all of the hard work they put in to making your day perfect? Then look no further than ASTRA, who's stunning range of earrings, bracelets, rings and necklaces is the perfect fit for saying "thank you!"
ANNIVERSARY 
Choose one of ASTRA's perfectly personal designs to represent the different chapters of your love story and relive every sweet moment as if it were happening for the first time. With its new chains now available in three lengths, you can layer up to your heart's content and add to your collection as you experience what life has to offer. Honouring commitment in the form of an anniversary, Tree of Love symbolizes the capacity to love throughout a lifetime, so embrace and celebrate the different stages of your relationship with the gift of love and loyalty.