Vintage Jewellery shop LILA's launches its first collection 'Confluence'. Designed in house and born from the brand's desire to promote ethical practices, all the pieces have been casted in their workshop in Lordship Lane, Dulwich, from 18ct Fairtrade gold and using only recycled stones. 
The growing demand of their restoring and bespoke services and her passion for ethical jewellery inspired Cata Rosca, Founder of LILA's, to start creating her own collections. She says 'It is quite satisfying to be able to reintegrate old stones into new jewellery, especially that the work to take out, clean, sort and test stones from vintage pieces is a lot more involved than just buying a parcel of new ones. The new consumer generations are more aware of the international context and they better understand that their buying choices can have tremendous consequences for somebody on the opposite side of the globe, and the consequences can be either positive or negative. Once the consumers know the risks involved and that there are ethical alternatives they are more likely to opt for them, especially if this is not making a huge impact on their wallet'.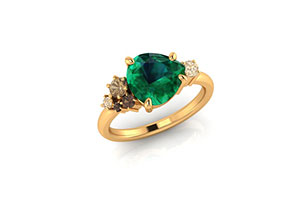 'Confluence' features a selection of rings and necklaces in white and yellow Fairtrade gold mixing coloured precious stones to create unique ethical pieces.
Based on Lordship Lane in East Dulwich, LILA'S combines an eclectic mix of pre-loved antique and contemporary jewellery, which is lovingly restored and reconditioned. Showcasing Edwardian and Victorian pieces alongside retro styles from the 30s and 40s, LILA'S champions environmental and social responsibility in production by reimagining precious metals and gemstones, giving them a new lease of life.