Whether you have been nominated to arrange the ultimate hen or stag do for someone that's about to tie the knot or, if you're planning your own final day of freedom, have you considered The Crystal Maze LIVE Experience?
Forget cheesy spa days, boozy nights and endless discussions about where to go, and try something a little different by taking on the hilariously funny, interactive experience based on the popular 90s TV show.
Based in Manchester and London*, The Crystal Maze LIVE Experience is the ideal spot for a bride or groom-to-be to bring seven of their closest friends and family together for a nostalgic, bonding trip down memory lane. 
With the wife or husband-to-be as the team captain, and a designated Maze Master to guide you through the four incredibly themed zones – Medieval, Aztec, Industrial and Future, expect to laugh, crawl and even slide your way around the attraction.
You and your squad must work together to complete a series of challenges against the clock before entering the iconic Crystal Dome, where the aim is to catch as many golden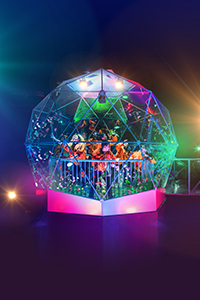 tokens as possible.
Once you have completed all the challenges, head over to the bar** to toast your successes and laugh at your failures.
One thing's for sure - The Crystal Maze LIVE Experience will give you plenty of funny flashbacks to refer to in wedding speeches, and something to laugh about long after the 'I dos'.  
To book a hen or stag do package in London visit: https://ticket.the-crystal-maze.com/london-west-end/stag-hen/ and for Manchester:  https://ticket.the-crystal-maze.com/stag-hen-manchester/.
The Crystal Maze LIVE Experience is also on Facebook, Twitter and Instagram, posting regular news, competitions and general shenanigans.
*London and Manchester stag and hen packages are available for over 18s only
**Bar available at London attraction only
Drinking before the Crystal Maze LIVE Experience will prohibit from participation with no refunds available