Catering arrangements and having the perfect wedding cake can be daunting, especially if you or your guests have specific dietary requirements, but fear not, now there's a cake to suit everyone's needs and your budget.
Whether your wedding is small and intimate or bursting with guests, the aim is to host a celebratory party that's inclusive to all. Within many groups of family and friends, there is likely to be a few guests who have a food intolerance, so it's important to find a way that ensures everyone enjoys a slice of the action.
A cake to cover all dietary requirements - Gluten and Dairy free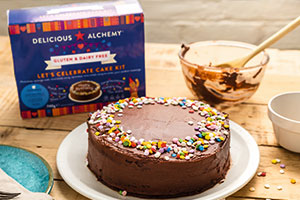 Creating a deliciously rich chocolate cake, perfect for those who can't eat gluten or dairy, the Let's Celebrate Chocolate Cake Kit from Delicious Alchemy can ensure everyone feels the love.
Make as a main centrepiece for a small and intimate wedding or as an extra cake for an occasion bursting at the seams with guests. The kit comes complete with a gluten and dairy free chocolate sponge mix, chocolate icing sugar, multi-coloured sprinkles and icing sugar – all completely free from gluten and dairy and allowing you to write your own unique message.
The deliciously rich chocolate cake is easily made following clear instructions and aside from the kit the only other ingredients needed are butter or dairy free spread, eggs or egg replacer and water. It serves 12 guests and to make it even more personal why not garnish the cake with seasonal flowers that mean something to you and serve with soft fruit.
The new Let's Celebrate Chocolate Cake Kit is available in Tesco stores nationwide and online at shop.deliciousalchemy.com priced at £5.00 (RSP) per 740g pack.
Delicious Alchemy is a gluten and dairy free award-winning brand that was launched in 2006 by coeliac, Emma Killilea, who was disappointed by the lack of natural, healthy and delicious gluten free products available. It now boasts a range of 16 gluten and dairy free breakfast cereals, cake and bread mixes, which are also free from GM ingredients and artificial colourings and flavourings.