Almost a quarter of men have proposed to their partner without getting them an engagement ring.
According to a poll by national jewellers, Beaverbrooks, 24 percent of modern men are asking the most important question of their lives without a traditional diamond ring.
And when it comes to delivering the 'perfect proposal', it seems many men are missing the mark on the style, size and stone of their partner's ring.
A third of women polled (29 percent) said it was crucial that their partner knew exactly what ring they wanted for their proposal. Getting the ring size right first time also featured high on the list, with 28 percent stating it was an essential factor.
In fact, 'how to measure ring size' was revealed as the most searched for engagement ring term on Google, with an average of 3,600 searches in the UK every single month.
Fortunately, three quarters of brides love their engagement ring – but 10 percent said they secretly cannot stand it.
And 12 percent said they initially turned their nose up at their husband's choice of a ring but have grown to love it over the years.
Partners in Edinburgh were the most clueless when it came to choosing the right ring, with 24 percent of brides admitting they actually hated their ring. At the other end of the scale was Brighton, with 87 percent claiming it was 'perfect'. 
A jealous 15 percent admitted they secretly wished they had their friend's engagement ring as they thought it was nicer than theirs.
Adelle Thompson, head of buying at Beaverbrooks, said: "A proposal is one of the most important milestones in any relationship and our research shows that for most couples, the perfect engagement ring is a crucial part of the event. 
"Selecting the dream ring is all about identifying the little details that make it special for your partner – from the design and material of the band through to the cut, colour, clarity and carat of the sparkling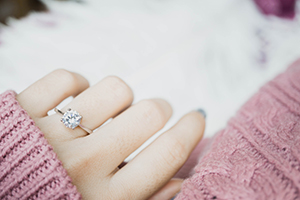 diamond. 
"We understand that choosing a ring can be overwhelming, particularly when there are so many different options available. To help partners choose a ring their loved one will treasure forever, we have created an ultimate ring buying guide, complete with hints and tips on styles, sizes and materials."
Liverpool were the biggest spenders when it came to engagement rings – with partners spending a minimum of £1,506 when they pop the question. Sheffield was revealed as the city with the tightest pockets, with locals claiming £693 was more than enough to spend on an engagement ring.
The search term, 'how much to spend on an engagement ring' also featured at number three on Google's most searched for engagement ring questions, with an average of 1,300 monthly searches. 
When it came to the perfect ring, the most important factors for women were the way it looks on their finger (44 percent), followed by the fact that their partner chose it for them (37 percent). 
A quarter of women (25 percent) look for a ring that is unique and different, while a functional one in 10 preferred something practical that suited their job.
To find out more about choosing the perfect engagement ring for your partner, visit Beaverbrooks' ring buying guide: www.beaverbrooks.co.uk/engagement-ring-buying-guide
Event Date:
Wednesday, December 19, 2018 - 11:15