After finishing wedding season, which typically covers the whole summer, we are heading towards Christmas- the most popular time of the year to get engaged. With this in mind, new research, conducted by jewellery retailer Diamond Heaven, reveals today how the modern UK are actually sticking to engagement traditions.
Considering that it is a long standing tradition for a man to spend one month's wage on an engagement ring, which is around £1,990 a month*, the average cost we expect to be spent on an engagement ring is £1,650.
Interestingly women stated on average £445 more than men did when asked what was spent or will be spent on the engagement ring.
London tops the price list of Brits who spent or expected to spend on the engagement ring at almost £4,700.00. This is compared to those in the east midlands who spent or expected to spend almost £600.00 on the engagement ring.
We're also still sticking to the same ring customs as just under 3 in 10 (29%) Brits proposed or were proposed to with a ring.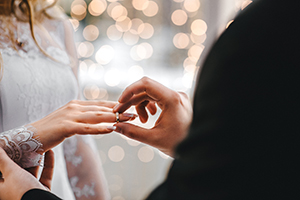 The average duration of an engagement is or should be two years according to those surveyed. Considering all the time and money that goes into a wedding, this seems sensible.
Nicholas Carter, Head of Retail & Development at Diamond Heaven says: "We see people coming in daily to buy engagement rings and it's such a special time in people's lives, so we decided to see what traditions have changed and which have stayed strong. The survey has yearned from interesting results, namely that the engagement ring is still a big part of it!
"Nothing makes a proposal more special than proposing with a ring, which is why we offer a payment plan to help those who might not be able to splash one month wage on a ring straight away."