Hello, thanks for stopping by to read this, I'm Jane Fox, based in Walton le Dale, Preston in Lancashire and I make gift shopping for personalised hand painted and handmade ceramic wedding gifts easy for you. By creating unique bespoke one off gifts for you to give to whoever you wish to. I hand paint your personalised design on to ceramic pottery items in colour, along with a name and a personalised message from you if you would like one. This saves you the frustration of trawling around the shops unable to find something unique and saving you precious time in your busy life for you to spend in a happier way. What can be better than a personalised gift created for you or a member of your family?
The handmade personalised hand painted ceramic wedding horseshoes make such special guaranteed to be "treasured forever gifts". Super to give to the Bride and Groom from any family member or from friends right down to the tiny Flower girl. These ceramic horseshoes start off white so any colours, design, and writing can be applied. The design is your choice; maybe following the design on the wedding invitation or the wedding theme or colour theme, along with the name of the wedding couple and their special day date. I try to colour match as best I can along with the ribbon for the Bride to carry it by and then hang it up after the wedding day.  The horseshoes are 1cm thick, 11.8cm across and 12cm top to bottom.
My hand painted wedding plates can be created for other special occasions such as births, christenings, naming day ceremonies, graduation, engagements and new homes to name a few of our life time events. You can choose from designs on my website www.created4u.co.uk to go on your plate or I can create a new handmade design just for you to compliment the Bride and Groom or the wedding theme. The wedding colour scheme can be used in the design too. I am happy to receive a photo of the invitation if you would like me to use the design from that to go on the plate.
I hand paint the designs onto a 26cm diameter ceramic plate, following the design or details you have requested, please note other sizes are available but be aware larger ones are harder to post safely.  The plate is then allowed to dry for 24 hours, it is then dipped into the glaze tank and allowed to dry again for 24 hours before being loaded into my kiln. The glaze firing in the kiln takes 8-9 hours and then has to be left to cool to go cold which takes 12-15 hours. At this point I can open up the kiln to take out the finished plate to be wrapped and posted to you. Some designs depending on how they are created 4 U and what type of ceramic paint I use, require firing before we can start the glaze process. This does length the creation time so please ensure you place your order in plenty of time before the big day.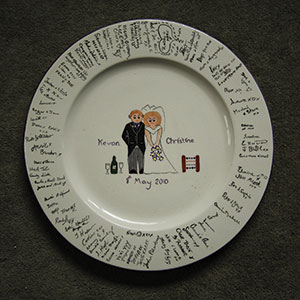 Signature plates are popular making functional "Guest comment books". This is when the guests at the wedding sign their personal message to the Bride and Groom onto the plate. The plate can also have a personalised design appropriate to the wedding couple. You take the guest signature plate blank to the event, your guests sign with one of our pencils and then you bring the plate back to us, for us to paint the centre design on and paint the signatures in. The plate can be used as normal or hung up on your wall and the messages are there for ever. These signature plates are normally created on a 40cm diameter plate and therefore need to be collected direct from our studio.
Then there are gifts for the Bridal party; mums and dads, Best man and Bridesmaids, other personalised gifts can be created for these important people in your celebration whether it be a special mug, wine glass, trinket box, name plaque, platter, vase or wine cooler as possible ideas. These can all be personalised to suit your requirements.
Once you have given me the order I will endeavour to post it out to you by the end of 2 weeks, this is dependent on how busy I am with orders at the time you place your order. I can advise you how long it will take before you place and order with me please allow for this when ordering these bespoke wedding gifts. I will keep in touch with you so you know when the creation is posted out to you. Should you live in Lancashire you are welcome to collect direct from me in Preston. I can recreate similar items for you seen in my shop on my website or something completely different. Just tell me your requirements for each item and I will Create it 4 U!
Then as an alternative in the studio at Fired 4 U we also host arty Hen Parties, where you choose to paint a pottery item each which can be either a memento for you of the occasion or could be your wedding gift to the Bride. Some Brides opt for everyone to paint a piece of crockery to produce a unique dinner service! You are welcome to bring along drinks and nibbles to your Hen party and evening and weekends are available for these parties.
Best wishes Jane, Katy and Kelvin the kilns.
Created 4 U, C/O Fired 4 U, 15-17 Hennel Lane, Walton le Dale, Preston, Lancashire PR5 4LA
01772 203060 or 07759210267