Gone are the days where the newlyweds never get to taste the food that they spent the last six months planning! As the food offering works it way up the list of a wedding's most important elements, we explore the rise of the foodie wedding and how you can add your own tasty twists to your big day.
It's safe to say that the foodie revolution has truly engrained itself in every aspect of modern life and weddings are no exception. With wedding cakes made with layers of brie and camembert and brides parading down the aisle with edible bouquets, now is the time to welcome in a new age where the cuisine takes centrestage. 
Couples are now choosing to break away from the traditional lamb and mash, and are instead opting to introduce vibrant world cuisines that wouldn't be out of place at a
top restaurant.
Weddings have become less of a formality in the last few years, with couples focusing on making the reception more of an event. Buffett tables are being replaced by Mediterranean spreads, tapas selections and middle eastern inspired dishes, while prosecco receptions are being swapped for signature cocktail which include ingredients that are personal to the couple.
There's also been a significant increase in the number of people tailoring their meals to be more friendly to those with specific dietary requirements. Vegan options for example are cropping up on a lot more wedding menus while vegetarian dishes are no longer limited to the same old stuffed peppers and now often take center stage.
With menus changing so rapidly, it's no surprise that the classic wedding cake is also having a makeover. With many couples shunning the traditionalfruit cake, we're seeing some fantastically creative twists on the original. From sushi cakes and doughnut towers to pancake stacks and tiers of pork pie, there really are no rules when it comes to cake styles.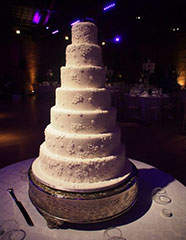 If you're looking to add some foodie fun to your big day, why not ditch the traditional and try something a little different. Let the seasonal food trends guide the way and go for the likes of Hawaiian cuisine, purple vegetables and 'bruschetta bars' in the summer months. If you're planning a winter wedding, warm things up with tea infused dishes, harrisa-braised lamb and spiced mulled wine. 
Foodie weddings are all about having fun with flavor so don't be afraid the break the mold and rip up the rule book; your guests certainly won't be complaining!
Written by: Milena Gorska, wedding planner at The Brewery
Event Date:
Thursday, June 21, 2018 - 10:00