With the build progressing apace, bookings are now available at Crumplebury – an exclusive, luxury wedding venue in rural Herefordshire, developed by the husband and wife duo behind the award-winning Green Cow Kitchens restaurant.
Crumplebury is a £2.5million project that's set to be completed by October 2019; providing the perfect opportunity for those looking to engage in autumnal and winter wedding celebrations in an exquisite and exclusive venue.
The developers have released new CGI images of the completed project, allowing for the newly engaged to get a sense of the finished venue, which will consist of a banqueting hall, lounge, bar, gallery, 11 luxury bedrooms and a private cottage. This all set in the heart of the beautiful Herefordshire countryside on the Evans family's private estate.
Joe Evans, managing director and founder of Crumplebury and Green Cow Kitchens, said: "While construction might be ongoing, we're well on course for our October opening and we're inviting the keen and the curious to come and find out more.  Those who book will be in the fantastic position of being the first to say they got married at Crumplebury, which, we're supremely confident, will be something to boast of in years to come."
Crumplebury is available for exclusive use for weddings all year round, and is able to seat up to 200 guests in its banqueting hall; a room that's set to have floor to ceiling glass gable ends, providing a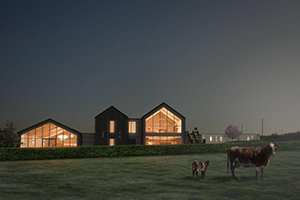 magnificent view of the surrounding countryside.
It's not just the luxurious décor of Crumplebury that's set to attract; the food at the venue will evolve with the seasons, with produce farmed on the home estate, echoing the traditions of the Green Cow Kitchens restaurant which has carefully curated monthly menus.
Joe said, "We pride ourselves on an exquisite menu at Green Cow Kitchens and this will continue at Crumplebury. Food is at the heart of our offering and we're looking forward to presenting fantastic dining to our guests."
He concluded: "We've already had a lot of interest, so we'd encourage people to get in touch to ensure they secure the optimum date for them. October 2019 will arrive much sooner than you'd think!"
Crumplebury is securing bookings for mid-October 2019 onwards, and have already started to receive wedding enquiries for 2020 and 2021. Bespoke menus will be created by celebrated chef Patrick MacDonald FRSA and the team at Green Cow Kitchens depending on the season and style of event.
A teaser video of Crumplebury's offering can be seen here:
To make an enquiry with Crumplebury visit http://crumplebury.co.uk/
For more information on Green Cow Kitchens please visit http://www.greencowkitchens.co.uk/