Wedding photos are one of the most important aspects of every wedding. Why? Because they capture the magic of the day and enable you to fondly reminisce in many years to come. Propel your wedding photos from run-of-the-mill images to fairy-tale moments of the big day with the following stand-out features designed to inject the wow factor into every type of wedding.
Bubble machines
With their pretty rainbow tones, floating motion and fairy-like appeal, bubbles have long been a favourite prop for photographers.
The charming allure of bubbles make a great addition to a wedding and bring a magical feature to the special day.
Hiring a bubble machine that pumps out hundreds, if not thousands, of bubbles every minute, is a great way to add glamour, magic and romance to the day, as well as bringing the wedding snaps to life.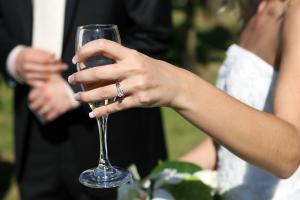 Prosecco Bar
Like the bride and groom, weddings and prosecco go hand-in-hand. Why not make the most of our favourite wedding tipple and capture those special moments in style by installing a glamorous prosecco bar at the venue?
Prosecco bars provide the perfect spot to relax over a glass of bubbly, chat to other guests and toast the happy couple. These fashionable bars also make a fabulous backdrop to snap some memorable wedding shots!
Chocolate fountain
From prosecco to chocolate, weddings provide the perfect excuse to overindulge! Extravagant chocolate fountains, with mouth-watering streams of rich chocolate cascading down the table, provides a fabulous centrepiece to capture those enchanting wedding moments.
Whether used as a stunning showpiece for an evening reception, or as an impressive option for a dessert, chocolate fountains will certainly ensure wedding photos stand out and are fondly cherished for many years to come. 
LED lights
There's nothing quite like LED lighting to bring excitement, glamour and vibrancy to a wedding setting. LED lights come in a myriad of shapes and forms. From LED tealights scattered around the reception, to LED pearl beads draped across the entrance to the venue, LED lights provide an enchanting backdrop for capturing atmospheric, romantic and memorable moments.
Candy Ferris wheel
For wedding parties with a sweet tooth, make your big day even more memorable with a candy ferris wheel! Fill the wheel with the bride and groom's favourite sweets and let the candy tantalisingly spill out of the revolving shelves.
Making a fantastic centrepiece of any wedding, candy Ferris wheels will help craft some truly unforgettable snaps of the big day!
Photo booths
Bring some uniqueness to your wedding and the photo album by hiring a photo booth for the occasion! Your guests will be in hysterics for hours with an array of props to bring out the fun factor on your special day. Not only are photo booths a super fun way to entertain guests but they bring amusement, intrigue and style to the wedding photos.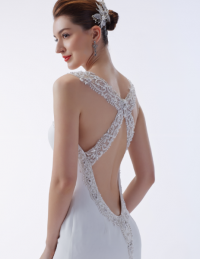 Make your wedding snaps shine on social media!
Incorporating any of the features mentioned above into the décor of your wedding will ensure the memories of your big day stand out when shared on the likes of Instagram, Snapchat and Facebook.
These visually stunning images of your special day will craft compelling memories of your wedding that can be shared on social media or printed and made into a cherished wedding photo book that will be tenderly recollected for many years to come.
This blog was written by Venus Bridal, specialists in diverse collections of bridal wear. Venus Bridal provides brides-to-be across the whole of the UK with beautiful wedding dresses that cater for all types of weddings. Find the perfect wedding dress and help your wedding photos stand out at Venus Bridal.
Event Date:
Tuesday, November 15, 2016 - 09:30