A welcome addition to a relaxing bath – Olverum Bath Oil is a real touch of luxury for any bride feeling the pressure of wedding planning...
The Olverum website, olverum.com, describes it as a bath oil to soothe aching muscles. Olverum (true oil) is a unique and luxurious aromatic blend of essential oils. With just a few drops in your bath, these carefully chosen extracts combine to help ease stress and relax tension in both mind and body, bringing "you back to your complete and natural self."
I recently received some samples and at first I was astonished how little oil was in each individual sachet. As a regular user of bubble bath – and how much I personally use – I was convinced there was no way there was enough oil in the pack. However, I was quickly proved wrong, the Olverum Bath Oil filled the bathroom with the most amazing aroma.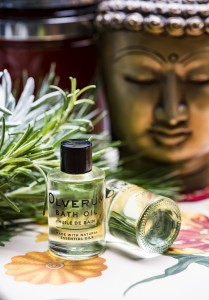 Despite having a bad cold and aching all over I felt soothed by the experience. After the bath my skin felt amazing, my stress was eased, I was relaxed and I felt brought back to my "complete and natural self." The oil also really helped my blocked nose. I'd given a colleague a sample pack to test, and she was so impressed, she has been looking at stockists. While it isn't cheap, the amount that you need to use every time, means it would last quite a long time, making it value for money.
I'm hoping to find a bottle in my stocking on Christmas morning, as this oil - truly is a bath oil to soothe aching muscles, and is perfect for any bride who is looking to pamper herself, ahead of her wedding day.
Lorraine Jones