London has welcome the nation's favourite party with Popworld opening its glittery doors for the first time this month on 7th September – the perfect night for any hen party!
Since its humble beginnings in Southampton, the chain of pop-themed nightclubs has seen four years of incredible growth and has forged a legendary status throughout the UK by providing unforgettable nights out filled with fun and laughter. With the opening of their London club, there will now be 27 sites nationwide.
London customers will be able to enjoy a wide range of delicious deals on cocktails including the sweet-shop inspired Candy Pop, Our wide range of Skyball cocktails and Swedish jam-jar cocktail Jam Pop as well as the Popworld signature sharer – the Partini! Fancy the VIP experience? Bookable booths and cocktail masterclasses will make it a poptastic night to remember! 
Jamie Rosenfeld, Brand Manager at Popworld said: "We are so excited to bring Popworld to central London for the first time. We have had such great success over the past few years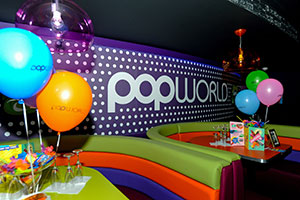 and are continuing to grow as a brand, throwing unforgettable parties across the UK. With this new site we can't wait to show off what we are all about and provide a great party for all the people all across the capital!"
So London, get ready to Spice Up Your Life, as all Girls (and boys) are Aloud, and be prepared to Get On Up, Reach For The Stars and dance on down to Popworld this September.
Popworld London Watling Street, 17 Watling Street, London, EC4M 9BB
Opening times: Thursday: 20:00 - 02:00; Friday: 20:00 - 03:00; Saturday: 20:00 - 03:00; Sunday: 21:00 – 03:00; Monday-Wednesday: available for private hire.