Your wedding will undoubtedly be one of the most special days of your life, but unfortunately it may also be one of the most expensive. Last year, Brides Magazine reported that the average budget for a wedding is over £30,000, which is only slightly less than the average house deposit. With this in mind, short-term loan provider Wonga have compiled a list of tips and tricks to help keep the costs down when planning your big day.
Pipped by the post
With the cost of sending a large letter now 98p, just sending out the invitations in the traditional way could add a hefty £100 to your budget. Consider creating a gorgeous invite online instead which can be emailed out for nothing. Alternatively, consider making your own invitations instead of buying professionally made cards. This will save you money while also adding a personal touch.
Weekend woes
While weddings traditionally take place on Saturdays, tying the knot on a weekday (or even a Sunday) can save you thousands. Venues often offer discounts for non-Saturday events so break the mould, not the bank!
Creative cuisine
Catering was second only to honeymoons on Brides Magazine's list of wedding expenses, with the lucky couple spending an average of nearly £4,000 on food and drink. Choosing an unconventional dining option can save you a huge chunk of money, with pizza vans, fish and chips and hog roasts just some of the far cheaper and quirkier alternatives.
Supermarket saviours
Don't be afraid to buy wedding day accessories from your local supermarket. Things like flowers and cakes can all be modified to add a personal touch and by avoiding the big-name brands, you can really keep the costs down. Why not make your own tiered cake by simply buying smaller ones and stacking them up?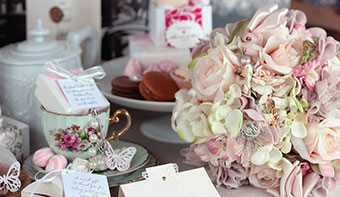 Helping hands
If someone offers to help out with some part of the wedding, don't be shy in accepting! Your guests may be able to fill traditionally expensive wedding day roles, such as the DJ or music act. You could even ask for friends and family to contribute to the event in some way instead of bringing gifts, e.g. baking a cake or doing your hair and makeup. You'll save money and allow your guests to feel really involved in your special day.
While some wedding costs are well-known, there are many hidden expenses which engaged couples may not factor into their budgets. For information and advice on how to avoid such fees, click here: https://www.wonga.com/cashsmart/articles/image-articles/hidden-wedding-costs/