"Get me to the church on time…" may well be a well-known wedding song, but one of the principle features of most weddings is the transport to get, predominantly the bride and her party, to the wedding venue on time. If you are planning a wedding, no doubt, booking the wedding transport will be pretty high on your 'to do' list. Venus Bridal, specialists in diverse and beautiful bridalwear, take a look at the different modes of wedding transportation, designed to turn heads on your big day.
1. Horse and carriage
If you're planning a fairy-tale wedding, then being taken to the ceremony by horse and carriage will certainly make you feel like a princess going to meet your prince. If you are travelling by horse and carriage to the ceremony, hiring a carriage with a hood is recommended. Even if you're getting married in the summer, as we all know, we can't guarantee dry weather, especially here in Britain, so a carriage with a hood might prove to be a saviour!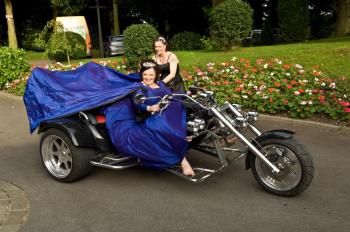 2. A Tuk Tuk truck
One mode of transport that's guaranteed to be a memorable feature of your wedding day, is a Tuk Tuk truck. These motorised rickshaws are quaint, quirky and fun, and are especially in-keeping with weddings of an oriental nature.
3. VW campervan
Old-fashioned VW campervans make a fantastic addition to a wedding, particularly those with a hippy or vintage theme. If you're not lucky enough to own a VW camper yourself, then why not hire one, with all the wedding trimmings?
VW campervan hire that's been purposely designed for weddings includes fabulous wedding accessories, such as being decked with ribbon and bows, a bottle of chilled bubbly on board, not to mention a chauffeur to drive you around in style on your big day!
4. Helicopter
If you really want to travel in style to your wedding, why not travel like a rock star and land outside the venue in a helicopter? Being lifted into the air and transported across the sky on your big day has to be one of the most memorable ways to make an entrance at your wedding.
5. Sky dive
Speaking of memorable wedding entrances, why not hurtle down to the ceremony on a sky dive? For daredevil couples seeking an adrenaline-fuelled wedding, sky diving to the ceremony is one way to get your pulse racing for one of the biggest days of your life!
If you do fancy the prospect of this nonconformist wedding transportation, have a word with a local skydive company.
6. An elephant!
Another nonconformist mode of wedding transportation – an elephant! Perhaps only suitable if you're getting married abroad, but if you are having a wedding on a beach in somewhere exotic, showing up on an elephant is one mode of wedding transport you'll never forget!
7. A vintage car
If you're looking for a more orthodox method of transport to take you to your wedding, you can't go wrong with a vintage car. Whether it's a Bentley, a Rolls Royce or a Daimler, classic, vintage cars, chauffeur -driven and with a chilled bottle of champagne inside, will ensure you turn up to your wedding in style!
This blog post was written by Venus Bridal, specialists in diverse bridalwear. Whatever mode of transport you decide to use on your big day, Venus Bridal will have a stunning wedding outfit to suit every wedding, regardless of the transportation.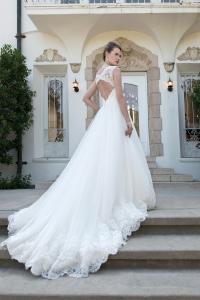 Event Date:
Wednesday, February 8, 2017 - 09:15