The UK Wedding Event are responsible for some of the biggest wedding fayres in Yorkshire.
Their flagship show at York Racecourse features over 100 exhibitors and is staged twice yearly in March and October along with the big West Yorkshire event they organise at Leeds United's Elland Road every November.
In addition to these large scale shows, The UK Wedding Event also work closely with a number of leading hotels and venues in the region to organise more intimate wedding fayres.
If you are interested in exhibiting in any of our events, please email sales@theukweddingevent.co.ukfor further information.
Our efforts have been rewarded too in The English Wedding Awards where we have recognised as the best in our field for to concessive years.
2018 Show Dates
The Craiglands Hotel | Sunday 17th June 2018
Hilton York Hotel | Sunday 24th June 2018
Hotel du Vin York | Sunday 8th July 2018
Hotel du Vin Harrogate | Sunday 15th July 2018
Best Western Burn Hall Hotel York | Sunday 22nd July 2018
Mercure York Fairfield Manor | Sunday 9th September 2018
The Sun Pavilion Harrogate | Sunday 16th September 2018
The Crown Hotel Harrogate  | Sunday 23rd September 2018
Cedar Court Hotel Bradford | Sunday 30th September 2018
York Racecourse | Sunday 21st October 2018
Centenary Pavilion @ Leeds United's Elland Road | Sunday 18th November 2018
Link to York Racecourse video
Link to Elland Road show video
The UK Wedding Event was setup by husband and wife team Rob and Emma O'Neill as a concept in the early part of 2014 and has gone from strength to strength ever since. 
It's fair to say they didn't do it the easy way either kicking off the business with a major show at York Racecourse in the October of the same year, with an event featuring over 100 exhibitors and attracting in excess of 1000 visitors. 
Rob and Emma like to think big with the wedding fayres that they operate while still maintaining the values associated with a small family company, putting the people they work with first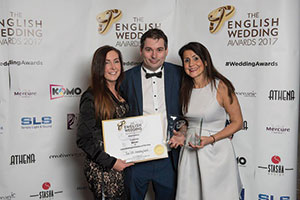 at all times. 
They also support young people with our catwalk shows having forged a strong relationship with SLP College as well as offering complimentary stands to charities including Martin House Hospice. 
The couple's motivations for creating The UK Wedding Event can be traced back to Emma's desire for a change in career direction after 20 years working as a primary school teacher coupled with the impending arrival of our first son which fuelled an ambition to work together too! 
Since those early days more intimate wedding fayres have come along with a number of leading venues calling on their services and expertise to organise events for them.
They all approached us having seen first-hand the results we were delivering, turning previously poorly attended wedding fayre into great successes, often topping the 500 mark. 
The Crown Hotel in Harrogate and Mercure York Fairfield Manor Hotel were early partners but more and more wedding co-ordinators are now calling on our services with The Craiglands Hotel in Ilkley and The Hotel du Vin in York and Harrogate two of the newer additions to their portfolio.
If you would like to book tickets to any of their events, these can be ordered easily via their website www.theukweddingevent.co.uk
The UK Wedding Event is more than just a wedding fayre company, they also offer support to other wedding businesses with marketing assistance and website design all available to their clients.