At Bare Biology we recognise the need to invest in your overall wellbeing and enter Autumn on a high note, ready for the year ahead. If you're planning your wedding in the coming year, you'll want to make sure it will be the day you dreamed of in all respects and that you're feeling and looking fabulous. To support you in this effort Bare Biology will be hosting September Startover, with a series of helpful tips & advice on our website and free events when you sign up to the newsletter. 
To celebrate we're giving Vows & Venues readers the chance to win a bride & groom to be set of Omega 3 Lion Heart liquid worth £95.
Enter for your chance to win a wellness and beauty bag essential, which: 
1. Nourishes the skin from within, resulting in plumper complexion. Omega 3 regulates oil production, boosts internal skin hydration and elasticity and helps fight acne and inflammation; leading to smoother, younger-looking skin.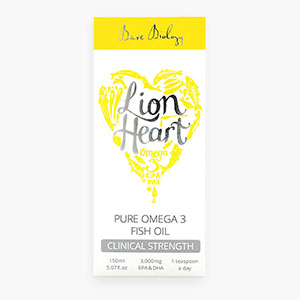 2. Provides protection against sun damage and helps repair cell membrane. High amounts of EPA help prolong the time that it takes for skin to get burnt during sun exposure; a daily dose of Lion Heart contains 3000mg of EPA and DHA – which is the clinical strength.
3. Contributes to thick and glossy locks. Omega 3 keeps the scalp moisturised, the hair follicles nourished and the hair shafts sealed. Lion Heart is full of hydrating fatty acids to help keep hair shinier and healthier.
4. And, if you're already thinking about babies and your fertility, it's the perfect preparation for both of you to get your bodies ready for conception and throughout pregnancy.
To win - answer the following question on rafflecopter:
What event with Bare Biology be hosting? 
For more information & to sign up for one of the events head to www.barebiology.com
*The administrator of this competition is Vows & Venues Magazine ("administrator"). By participating in the competition, each Entrant unconditionally accepts and agrees to comply with and abide by these Official Rules and the decisions of Administrator, which shall be final and binding in all respects. Administrator is responsible for the collection, submission or processing of Entries and the overall administration of the competition. Entrants should look solely to Administrator with any questions, comments or problems related to the Competition. Administrator may be reached by email at socialmedia@euromediaal.com during the Promotion Period. 
* The prize is a Bare Biology's Lion Heart liquid worth £95. The prize is non-transferable, non-refundable. There is no cash alternative.
* Open to UK residents aged 18 or over, excluding employees of the Administrator, the sponsor, their families and anyone else professionally connected with this promotion. 
* There is one compulsory entry which requests that to enter the competition you answer a question based on  'Bare Biology's Lion Heart liquid worth £95' information. Additional entries are available. 
* The prize winner will be asked to provide their email address so that contact can be made to arrange prize delivery, and their name and county be published in the next issue of the magazine  
* By entering the competition, you grant the Administrator permission to add your details to the mailing list, share your email address and any other personally identifiable information with the other competition Entities for the purpose of administration and prize fulfillment, including use in a publicly available Winners list.
* Entries will only be accepted as instructed and any entrant that does not complete the qualifying requirements will be disqualified 
*  The winner will be chosen using the random entry selector built into the widget.
* The winners will be informed by email within 5 days of the closing date, and must respond within 5 days to claim their prize. If there is no response within the 5 days and new winner will be drawn at random.
*This prize draw is governed by English law and the courts of England shall have exclusive jurisdiction over any dispute arising in connection with it.
For further T&C and our privacy policy please see here Euromedia Associates Ltd: Privacy Policy https://www.iubenda.com/privacy-policy/66331438/legal