With stunning Christmas markets, cosy nights in and merry nights out with friends on the horizon, many of us have our eyes set on creating the perfect winter hen party.
There are so many things to love about the Christmas season. The beautiful lights, the fabulous parties and of course, the gifts. But the main thing that many of us love is the opportunity to reconnect with old friends, see our families and catch up with friends we have lost track of throughout the year. This is also an incredibly romantic time of year, sprinkled with stunning proposals and romantic moments, and so it can feel just a little more special when you are engaged. For brides who are engaged to be married this winter or in the spring, this can make Christmas the PERFECT time to host the ultimate hen party - whether that is a wild night on the town, a weekend away with the girls, or simply a cosy night in.
Whatever type of hen party you are planning, pampering can be a fabulous way to bring together a group of your friends and relatives and leave them feeling relaxed and excited.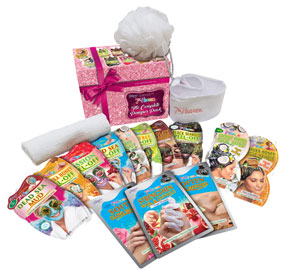 The must-have for pre-party pampering is of course, the face mask. Face masks are a brilliant way to cleanse, detoxify and brighten your skin for your party, and of course for your wedding day. The 7th Heaven Complete Pamper Pack features 8 face masks for the the hen party, with one for every personality. It also includes a Coconut Protein Rescue Masque and Manuka Honey Rescue Masque to rejuvenate tired and damaged hair, and a set of hand, feet and nail masks to ensure the bride is left feeling her best 
7th Heaven beauty treats for your face, hair, feet and body, are lovingly made by our herbalists using the most luscious, natural ingredients from around the world. We are proud of our environmentally and animal-friendly products, which are cruelty-free and PETA-approved. 
For more information about the 7th Heaven range, please visit www.my7thheaven.com