Have you ever considered getting married at sea, and having a cruise wedding? We have spoken with Adam Coulter, UK Managing Editor, Cruise Critic, to get the the ins and outs of having a cruise wedding.
Getting married at sea has never been as popular, with some cruise lines offering packages that start at just £1,010 in comparison with the average £30,000 cost of a UK wedding. Many cruises also offer a variety of services to help you plan a shipboard or shoreside ceremony, followed by a romantic cruise honeymoon. This enables couples to get married onboard or in a beautiful location without the immense hassle or expense of wedding planning. The fact that the captain can tie the knot in the absence of a priest, also makes a cruise particularly romantic. 
Royal Caribbean offers a wide range of wedding packages, including an option to get married at sea, with your ship's captain or first officer officiating a ceremony that includes special nautical vows. The line offers three avenues to tie the knot onboard. The most basic and intimate wedding option with Royal Caribbean is the "Intimately Yours" package, which allows the couple to get married onboard while the ship is sailing, with up to 10 guests. The package, starts at just £1,435 and includes: use of a private onboard wedding venue while the ship is at sea, the services of a wedding planner and coordinator, onboard ceremony with a nondenominational officiant, a photographer, recorded music, a wedding cake, chocolate-covered strawberries and a mimosa-accompanied breakfast-in-bed, bottle of Champagne and a keepsake wedding certificate.
One of the best things about getting married at sea is that the honeymoon is part of the package. As well as the wedding ceremony itself, a cruise not only provides a stress-free honeymoon, but is also a cost-effective option. Cruises make excellent honeymoons primarily because they combine a bit of pampering with travel to a number of exciting destinations, rather than just one. Most importantly, however, for those on a budget, a land-based honeymoon, in general, often costs a lot more for the same sort of accommodation, food and entertainment package offered by a cruise. Moreover, there are now more exciting cruise itineraries than ever, sailing directly from the UK to the Med, Canaries and Caribbean, so travellers don't even have to worry about the hassle or additional costs of flights.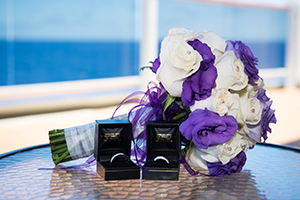 Cruising has two main advantages over resorts. First, cruise ships move, which means you can visit a number of exciting destinations without having to worry about transportation logistics or packing your bags several times.  The second benefit is that modern-day cruise ships are packed to the gills with innovative onboard activities to keep you fit and active and enjoy some serious fun-time together – whether that's mini-golf, movie theatres, rock climbing walls, zipwires, bumper cars or surfing and skydiving simulators. Cruises also now incorporate wine tastings, dance classes, educational programming, trivia games and other activities into their daily schedules – so there is always plenty to do, learn and see together.  Whilst cruise evenings can bring Vegas-style shows, West End musicals, comedy, magic acts and a variety of live music and dancing, ships also have fantastic spa offerings so you can both get some serious R&R – pre- or post-ceremony.
You will most likely also be treated like celebrities once you've tied the knot – with people clapping and cheering and sending champagne to your table etc. If you are getting married onboard, you'll almost certainly be considered for an upgrade, or receive a few added perks too, such as free specialty dining - so you will get a lot of goodwill attention throughout your honeymoon.
There's are a number of options out there for a cruise wedding, so it's worth reviewing what other cruisers have said about their own weddings at sea on www.cruisecritic.co.uk before you book.
Image credits: Cunard, Royal Caribbean International,