The ideal destination wedding venue has a romantic, celebratory vibe, Instagram-worthy beauty, stress-free customisation, guest appeal and easy access. Most importantly, it is a reflection of the bride and groom and their shared passions. Along Florida's Treasure Coast, couples can choose from coastal casual, culturally chic and rural-and-rustic settings, creating an experience that resonates with their love and life.
Host a seaside wedding at one of Vero Beach's scenic beaches, including Treasure Shores Park and Seagrape Trail Beach. There is no fee or permit required for groups less than 50, and locations are available on a first-come first-serve basis.
A destination wedding in Florida
Charmingly rustic options abound at sites such as Waldo's Secret Garden, one of the few venues in Indian River County that can fit 50-300 guests, and Cielo Blu, a spacious barn that offers optional wedding packages and a range of contemporary conveniences, including a bridal dressing room and a separate caterer's building. For a more budget-friendly "country barn" wedding, consider LaPort Farms. The venue provides a horse and carriage along with catering, music, linens, photography and an officiant.
Bellewood Plantation is one of the most sought after wedding venues on Florida's east coast. The main house is set on a lush estate featuring hundred-year-old oaks and manicured lawns. This stately home complements almost any event style and theme, and has private rooms available for overnight guests or pre-wedding preparation. The nearby Magnolia Manor estate marries old Florida sensibilities and rustic chic flair, offering a covered barn that holds 120 guests; a ceremony island with seating and customizable arbor; an outdoor cocktail area with fire pit; and a renovated on-site bridal suite.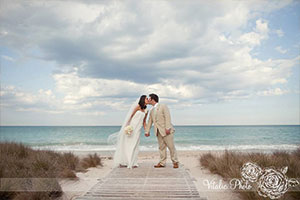 Culture-loving couples can wed in the Vero Beach Museum of Art's Holmes Great Hall — which features vaulted ceilings and the Laura and Bill Buck Atrium with a flowing fountain — or on its lush west lawn.
For a traditional beachside resort wedding, consider celebrity Gloria Estefan's Costa d'Este Beach Resort & Spa, with its chic Miami vibe and sweeping views of the Atlantic Ocean. Alternately, hold a fabulous fairytale wedding at Disney Vero Beach Resort, with its beachside boardwalk, croquet lawn and beautiful beach, and bonus indoor banquet room. Both resorts offer myriad amenities, spas and culinary delights.
Lara's Theme is a fantastic full-service wedding, floral and event planning company based on the Treasure Coast. Lara's Theme is a great choice for comprehensive local wedding planning.