A haven of tranquillity nestled in the Armagnac vineyards of Gascony France, La Bastide is one of three Michelin star chef Michel Guérard's guest houses and a picturesque location for an intimate destination wedding *. The five-star property prides itself on creating bespoke, elegant and memorable ceremonies and receptions for soon-to-be newlyweds.
La Bastide's 18th century charterhouse, which has been restored in an elegant French style, is surrounded by enchanting gardens where couples can say 'I do' bounded by canopy trees, bonsai-shaped yews and Andalusian fountains. Guests will be greeted with the warm hospitality that has made La Bastide renowned and, following the ceremony, chilled glasses of Champagne and delicate amuse-bouche can be served on the outdoor Italian gallery. 
The charterhouse lends itself beautifully for a wedding breakfast for up to 50 guests. Entering through the stone arcades of its ochre façade, newlyweds and their family and friends will make their way to the dining room, home to an exquisite collection of genuine antiques, paintings and curios. No matter what the size, chef Jérôme Artiguebère and his skilled team will create celebrated Gascony cuisine for the wedding party. Delicious Foie-Gras and poultry from the Landes, Gascony Black Pig, strawberries, plums and tomatoes grown in the Garonne Valley are just some of the ingredients that will be featured.  
La Bastide's professional staff are also on hand to help with all aspects of creating that special day from coordinating the décor and arranging the florist, to booking the DJ or band.  They can also provide guidance and ideas of activities for family and friends to enjoy in the local area.
Guests accommodation is in the charterhouse where bedrooms have been designed to give a sense of serenity and well-being. Each of the 25 bedrooms and suites are uniquely decorated using natural tones and warm colours ranging from ochre to dusky pink and chestnut, along with saffron echo prints that pay tribute to the purity of whitewashed walls and ceruse beams. Many of the rooms also feature original paintings and fine antiques. Nestled between ancient stone walls, there are five vast apartments (50-90 m²) with private terraces, that overlook the rose garden, perfect for the happy couple.
A perfect location for an intimate destination wedding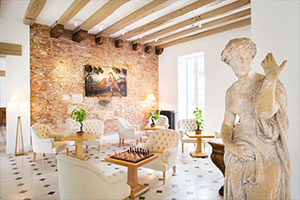 Hidden in La Bastide's colourful gardens is the thermal spa, an ideal place to relax pre-and post-wedding. It has embraced a nurturing philosophy and was built around a beautiful central gallery, reminiscent of Gallo-Roman baths. Spanning over 450 m², the spa was restored in an elegant French style and features 20,000-year-old mineral water springs, a large Jacuzzi pool with swim-against current, a thermal steam bath, infusion bar, hydro-massage bath cabins, Vichy Shower Cabins, hydro massage beds and a Decléor Beauty Salon.
Bordered by 40 hectares of Armagnac vineyards, which have been producing Château de Sandemagnan wine since 1967, guests should also take some time out to explore the vineyards with a curated tour by Max Dumolié, the vineyard oenologist who has been part of the Guérard-Barthélémys' journey since they purchased the vineyard in 1957. 
La Bastide is currently running an Early Bird offer, ideal for those planning their wedding/honeymoon. Accommodation from €166 per night (approx. £147), 15% off the public rate, including access to the steam bath and Jacuzzi in the Thermal spa. Valid for stays between February 23rd and March 2018, when booked by 1st February 2018. Prepayment required upon booking and none refundable.
*For UK citizens considering marrying abroad, further advice can be found here https://www.gov.uk/marriage-abroad.
For more information or to book this destination wedding visit  www.bastide-gasconne.com