Thinking of a destination wedding? A Majorca wedding could be perfect for you! Whether your eloping, considering a small intimate gathering or a traditional wedding on a larger scale Majorca has countless venue options to choose from: whether at the seaside, in the mountains (in the Sierra de Tramuntana UNESCO Heritage site), in a private villa, a fortress, a historic palace, a farmhouse, unusual locations or luxury estates, Majorca has it all for you. Despite the small size of our Mediterranean island, every corner offers different landscapes and different locations for your wedding.
If you are considering other European destinations, you must know that Majorca is just two hours away from the UK and has excellent flight connections with Palma, the capital city, at affordable prices.
Top tips when planning a Majorca wedding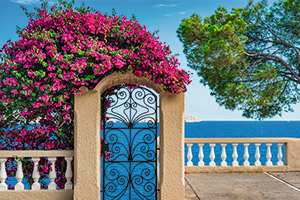 Planning
Plan long ahead as Majorca is very popular and venues tend to be booked a year in advance or more. The same goes for hotels, think about guest accommodation and book in advance.
Weather
Mallorca has an average of 300 days of sunshine per year so weddings can be held any time between April and October, as the weather is mild even in spring and autumn. Beware, however, as we do get some rain in March and April.
Having an outdoor wedding in the peak summertime can be a little bit too hot so preferably have a late-afternoon ceremony when the temperatures go down a bit and consider hiring sunshades.
Legal and religious requirements
Whatever the kind of ceremony you are thinking of, enquire as early as possible as there are some restrictions you need to be aware of and paperwork can be a bit long to do. Civil ceremonies can only be held if one of the two has been a resident in Spain for two years ore more.
Legal ceremonies must be performed indoors, but there are no restrictions regarding non-legal blessings, which can be performed anywhere.
Beach weddings
Majorca is famous for it's beautiful beaches, nevertheless, there are no private beaches on the island so hosting a beach wedding is difficult unless you book a venue like a restaurant on the beach or a beach club.
Catering
We have a wide variety of catering options ranging from Michelin-starred chefs to more rustic and local cuisine if you are thinking of a laid-back and "boho" party.
Hire a wedding planner
Organizing a wedding abroad can be overwhelming and managing the whole process with the language barrier (although many do speak English) can seem a daunting task. A wedding planner will make your life so much easier, allowing you to enjoy the whole process in a stress-free manner.
And why not choose Majorca for your wedding and your honeymoon too!
For more information and help on planning a Majorca wedding visit https://www.chloevents.com/.