A barefoot ceremony on the soft sands of Chaweng Beach, exchanging vows in a traditional Thai wooden sala, or an intimate gathering on a seafront lawn decorated with gently swaying coconut palms - at two of its picturesque properties in Koh Samui, Centara Hotels and Resorts has launched a new collection of personalised paradise wedding packages. 
Nestled within a cove on the island's pristine southern shore is the discreet Centara Villas Samui for those who wish for an intimate beach ceremony. Whilst catering to couples looking to host a more extravagant celebration with a full banquet and live entertainment is Centara Grand Beach Resort Samui, which also has an opulent Royal Suite.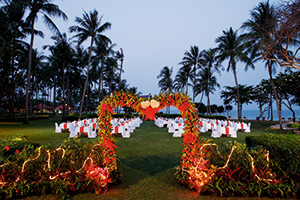 With a choice of personalised wedding experiences, extensive room choices and different locations to share vows - Centara Grand Beach Resort, Koh Samui offers a range of dynamic choices for the ultimate romantic celebration. Resident Manager, Paul Maneerat states "Our Royal Suite is the ultimate choice for a romantic stay as it offers couples plenty of room to spread out in comfort and enjoy the exclusive indoor and outdoor spaces, inspired by the graceful contours of a colonial home."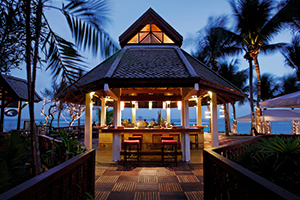 Enjoy a picturesque private beach at Koh Samui
For seclusion and the ultimate privacy, Centara Villas Samui features 102 villas that seamlessly blend in with the rich tropical surroundings on a gently sloping hillside leading to a picturesque private beach. "The idyllic setting at Centara Villas provides the perfect location to express your love. Whether you choose an intimate ceremony with your closest friends and family, or a unique Thai cultural celebration in the tropical gardens," says Karin Jongman, General Manager of Centara Villas Samui.
From personalised decorations to bespoke catering and music to suite any taste, the wedding team at each Centara resort ensures that every detail is perfect. And in the lead up to the big day, couples can enjoy an idyllic beachside break, taking advantage of the resort's facilities and services as they finalise arrangements such as the photographer, floral decorations, wedding cake, canapés and cocktails. Additional benefits for the most romantic time of their lives also include a romantic candlelit dinner for the bride and groom and sampling the delectable dishes for their special day during a pre-wedding tasting session.
For more information on Koh Samui or the hotels please visit www.CentaraHotelsResorts.com