An overseas wedding can make both practical and economic sense, explains Charles Purdy, CEO of Smart Currency Exchange. But with rapidly moving exchange rates making budgeting all-but impossible, using an FX specialist can take the risk out of large overseas currency payments.
Whether exchanging vows barefoot on the sands of your favourite Spanish costa, enjoying a stylish wedding breakfast laid out under the trees in a French garden, or having your service conducted by 'Elvis' in a Las Vegas drive-thru chapel, a wedding abroad can be not just fun and practical, but inexpensive too.
There are practical reasons why an overseas wedding venue can save the pounds. Firstly, they're easier to limit to your closest friends and family. "We would love to have invited you, your new boyfriend and your six kids to go the Bahamas with us, but it wouldn't have been fair. On you." You get the drift.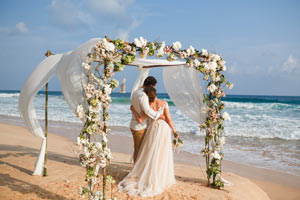 You can get married in the spring or autumn, enabling you to get bargain flights and hotel rooms and still have a reasonable expectation of good weather abroad. Indeed, it's often best to avoid the heat of a summer wedding.
An overseas wedding also has that exotic element without the need for all the extras, such as wedding favours and huge floral displays – although of course you can have all those if you wish.
Getting a good deal
Just as UK venue owners get £££ signs appearing in their eyes at the mention of a wedding, so too will some overseas venues. Especially if they think you're a wealthy foreigner.
Moreover, the best venues, that appreciate the vital importance of getting a once-in-a-lifetime event right, will expect to earn a premium. So in a sense you get what you pay for.
However, to avoid being overcharged, prepare your budget in advance and spell that out to the venue owner. It will save you all the time and trouble if way out of your league. Get a local contact involved if possible, and potentially use them as an intermediary.
Be upfront. While you might want to avoid paying a wedding 'premium', it can be risky if you've simply booked a party and the first inkling the owners get that it's a wedding is when you come swanning into the venue wearing a wedding dress.
Using a currency specialist
Whatever you do, however, weddings will cost money. So you should think clearly how you will organise your currency payments.
You shouldn't use your usual bank for the transfers any more than you would use your usual fast-food joint for the catering.
A foreign exchange specialist won't just give you a better rate, they'll be a fount of wisdom and guidance too, at the end of the telephone to answer your questions and queries. Check with your trader on the best time to change your money and the different types of contract you can take.
Lock in your exchange rate.
During 2021, the pound was worth between €1.10 and €1.19, meaning that a €20,000 wedding abroad would have cost you anywhere between £16,800 and £18,200.
The pound can lose value incredibly rapidly on occasions. The start of the pandemic, the Brexit vote and the 2017 election result all caused the pound to lose significantly, leaving those needing to pay large bills abroad facing thousands of pounds in extra charges.
You can avoid that risk with a forward contract for your currency, which fixes the rate for up to a year ahead. Then whatever happens to the pound, your budget in euros or dollars is safe.
At Smart we're there for the best things in life, such as paying for a wedding, buying a holiday home or retiring to the sunshine.
Give us a call on 0808 163 0102 or check out our website at www.smartcurrencyexchange.com. And good luck in your future married life from all of us here. We look forward to hearing from you.
Event Date:
Wednesday, March 2, 2022 - 12:30