Saying vows under a wedding arch is a centuries old tradition full of romantic meaning, symbolising the home that the couple will build together. For weddings held outdoors, arches and arbours also provide a beautiful focal point for the ceremony, and an attractive backdrop for pictures.
If you are planning an outdoor wedding, there are many hire companies around the country from whom you can rent an arch for the day. A much more special alternative, though, would be to be able to take your very own wedding arch home with you, to keep in your garden as a constant reminder of your big day. You could even grow your own wedding flowers over it, seeing them grow larger and stronger with every anniversary that passes.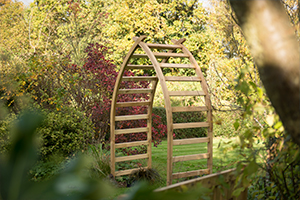 Forest Garden has a range of arches that create the perfect frame for the most important part of the wedding day, no matter what your wedding style. The contemporary Whitby Arch, for example, has a smooth, curved shape, reminiscent of a whale bone, which would create a really dramatic effect, and some stunning photography. It comes in two sizes, and even has the option of being available as an arbour if you were looking to create a seated area.
You could even grow your own flowers over your wedding arch
A more traditional romantic option would be the Honeysuckle Arch or the Rose Arch, both of which would look perfect in a country garden setting. These beautiful garden structures feature smooth-planed, round log construction that will effortlessly create a beautiful wedding arch, and then a wistful walk-way in your garden for years to come.
The Florence wedding Arch is another option that would suit a slightly more formal setting, with its high curved rafter top section creating a grand effect, which would look particularly striking if positions in front of structural planting.
All of Forest Garden's arches are easy to assemble, and are delivered flat packed with full instructions and fixing kit included, so that there is no added stress your big day.
Whitby Arch 258cm x 154cm x 76cm - £249.99
Whitby Extended Arch 258cm x 154cm by 150cm - £349.99
Whitby Arbour 258cm x 154cm x 76cm - £449.99
Honeysuckle Arch 281cm x 180cm x 53cm - £149.99
Rose Arch 286cm x 168cm x 70cm - £229.99
Florence Arch 304cm x 146cm x 80cm - £219.99
Products can be ordered nationwide through online retailers, high street multiples and garden centres.
To see if there is a wedding arch perfect for you and view the entire range please visit www.forestgarden.co.ukhttp://www.forestgarden.co.uk/