Spring is quickly becoming one of the most popular seasons to get hitched in; such a beautiful time of year with so many flowers in bloom, the sun is beginning to shine again and the days beginning to get longer once again.
Wedding planning can be stressful and overwhelming, especially when you've decided to take on many of the main responsibilities yourself. Whether you're a couple looking to adhere to a tight budget or simply love all the DIY possibilities that come with planning a wedding, it is certainly possible to plan the wedding of your dreams.
Terrys Fabrics have put together a list of things to consider when planning your DIY spring wedding.
Table decorations 
When it comes to DIY spring table decorations the possibilities are endless. If you're going for a rustic look consider choosing some seasonal flowers such as gypsophila, tulips or daffodils. Theses flowers can be placed in jars or vases for a natural feel, why not try a find some glass jars and holders in charity shops rather than buying new?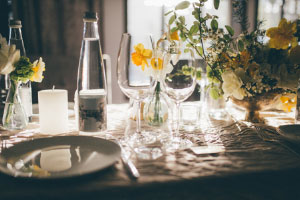 Flowers can still be an expensive choice depending on the quantity and time of year, so consider using potted plants as wedding décor. You'll also have the bonus of being able to take them home or give them to guests after the big day is over. 
Venue decorations
Depending on your venue contract, there may be a few restrictions when it come to the kind of decorations you can bring in or changes you can make to the space. Hanging drapes from the ceiling can dramatically change the look of the venue, but if professional marquee hanging is outside of your allocated budgets, look to do this yourself. These days there are a fantastic selection of materials and readymade curtains for sale in beautiful lace and satin which can easily dress up a space without any hidden costs. 
Adding fairy lights are an inexpensive way to spruce up a venue, they're not only really cost effective and oh-so pretty but they add a magical element to the decoration. 
Wedding invites 
DIY spring wedding invitations can be an amazing way to add a personal touch to a wedding. If you want to get extra creative, try your hand at some hand painted invites. Watercolour can be a simple but effective way to add a personalised flare to invites.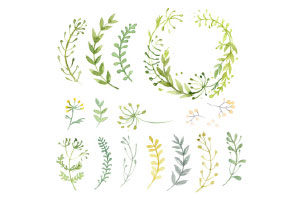 If you're feeling brave why not try and learn some calligraphy? Calligraphy can be hard to master but there are plenty of helpful tutorials online. You could also use your newfound skill to write the place name cards, saving more expense on professional printing. 
The cake
When it comes to saving money on a wedding cake, we suggest you keep it as simple as possible. Many now opt for a naked cake (a cake without frosting or buttercream). If you keep the cake simple you can add your own decorations later should you want to. Using real flowers instead of sugar flowers can also save a lot of money and the addition of real flowers is innkeeping with the spring feel of your wedding. 
Wedding favours 
Many are choosing to opt out of wedding favours as they often costly and seen as unnecessary. Even the more cost-effective wedding favours can sometimes add up to several hundreds of pounds! So, the best money saving tip for wedding favours is to ditch them completely. 
If you still desire to get your guests something try gifting your guests some bulbs or seeds to plant in their gardens- these will bloom in time for summer.