Caroline Grimble – Bloom & Wild's Lead Florist – gives Vows & Venues her top tips on the current trends in wedding flowers, and creating your own bouquets and floral arrangements. 
There is so much to think about for your big day – and what goes into your bouquet and floral decorations are no exception. Bloom & Wild have seen several trends coming through for 2019 and there's something for every bride!
Sticking to one colour, whilst using a mix of flowers, for your bouquet can make a big statement. This colour blocking trend is very striking. Coral is set to remain big in the world of florals, with Pantone choosing it as 2019's Colour of the Year.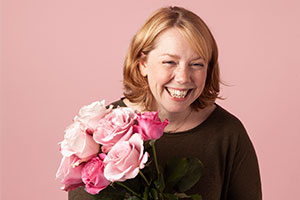 Dried flowers have been increasing in popularity. They not only add texture and movement to an arrangement, but they last such a long time. We expect to see lots of seed heads and dried lavender this wedding season. 
Local foraging is ever popular for the bride or groom planning their wedding. Whether it's the back garden at your parents' house or an extravagant manor house, weddings are requiring local seasonal flowers to be incorporated into the day - versus sourcing from across the country. This often also means more foliage heavy bunches, which look more beautiful and wilder than traditional, domed bouquets.
Flower clouds are the new flower wall. These arrangements look perfect suspended above tables and bring a whole new level to your floral decorations.
Creating your wedding flowers display
Preparation is key when planning a wedding. Bloom & Wild's letterbox flowers can take a day or two to bloom, so we always recommend having them delivered a couple of days before your wedding, that way they'll look their best on your big day.
For longer lasting flowers, condition them by trimming stems before leaving them in a cool dark place overnight for them to drink up lots of water.
Contact our Bloom & Wild Customer Delight Team to see if the flowers you're eyeing up will be available on your wedding date. Then, before you place your bulk order, order a few boxes to experiment with now. This will give you a better idea of how they'll look in the vases you have, plus how many boxes (and helping hands!) you'll be likely to need on the day.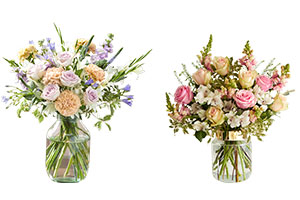 For the big day, you want to create the perfect set up to guarantee your blooms are looking their best.
Make sure your display looks full by adding a grid formation over the mouth of your vase with floristry tape. Pop your stems into the gaps and they'll stand perfectly.
What makes a professional-looking display is the way you cut your stems. Create interesting levels by cutting some shorter than others and layering them. Remember that people will need to speak to each other over your display, so the less height the better. Start collecting beautiful bowls, low vases or posy jars as these will give you the perfect starting point.
Keep turning your vase as you style it to make sure it looks beautiful from all angles, as your flowers are going to sit on the middle of your table.
To pick out the perfect wedding flowers for your special day, see bloomandwild.com