When planning your wedding, how do you decide on a theme or colour scheme? Simple, don't stick to one, incorporate a few themes and colours for a stunning fusion wedding. Be creative with colour and include different tones and hues of your favourites across all of your styling and details.
Wedding stylist, Lindsey Hunter shares how you can create a colourful wedding using Indian, Moroccan and Scottish details for a beautiful take on a striking fusion wedding.
Colour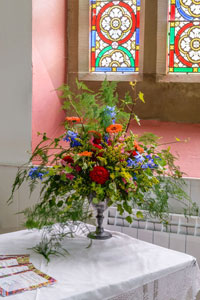 Really embrace colour and use lots of it, from red and orange to green and blue; include as many different colours in various shades for an eye-catching look.
Make use of the ceiling
Often, ceilings get forgotten, but it's the perfect space to continue your theme and make a feature to enhance the overall look. To incorporate the Indian aspect, hanging colourful Indian parasols and plain paper parasols from the ceiling looks extremely impressive.
Simplistic tables
When using lots of colour, keep your table décor simple. Line long tables with small terracotta pots filled with a combination of flowers such as roses, callistephus, carnations, gerbera, delphiniums, crysanths, snapdragons and dahlias for colourful table displays. Add some lighting by placing some brass candlesticks and jewel coloured Moroccan glasses to hold tea lights amongst your displays. Finish the look by adding autumn fruits and berries, including strawberries, raspberries, blackberries, artichokes, grapes and figs to the tables.
Add a touch of boldness to your tables with dark coloured chargers such as navy, which look fantastic against the colourful flower decorations.
Lighting
Add a relaxed, carnival vibe to your venue by hanging festoon lights on the ceiling for your main source of light. Combined with candles on the tables, festoon lights are perfect for setting a fun and lively atmosphere.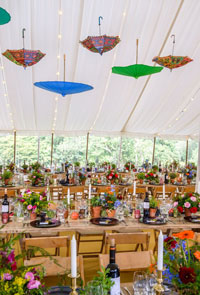 Chill out space
Create an area at your venue where your guests can go to relax for a while. Place groups of inflatable sofas together with white coffee tables and add plain coloured cushions and throws to continue your colourful theme without being overpowering. To add some subtle lighting when the day grows darker, LED light cube seats not only provide some extra seating, there are several colours to choose from to fit with your colourful theme.
Styling a venue, whatever the theme is fun. Be creative with colour and don't be scared to use lots of it, when styled correctly, a colourful fusion wedding will look spectacular. For some more inspiration and to contact Lindsey, visit www.get-knotted.net.