Looking for the perfect swimwear for your honeymoon suitcase this year? Than look know further than the truly 'Maajic' SS19 collection by Colombian swimwear brand, MAAJI.
Founded in 2002 by sisters Manuela and Amalia Sierra, today MAAJI has a retail presence in more than 50 countries with multiple retail partners including Amazon, Asos, and Anthropologie.
MAAJI pride themselves on harmonizing a careful balance of standout prints and bright colours, versatile and flattering silhouettes, fun textures and a presence of unique details that really define the brand's philosophy.
MAAJI's perfect swimwear collection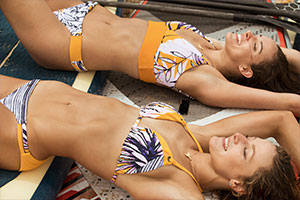 MAAJI's new Spring/Summer 19 collection features six prominent colour groups which include: shimmering sangria and ribbed cayenne; deep-blue with a touch of shimmer and golden Farrah yellow; rib-pure black with iridescent beach plum; deep blackberry pique and shimmering wood-rose; wedgewood blue with a touch of pure white whisper and finally, warm mandarin with hues of sparkling champagne.
MAAJI's signature floral prints, along with a playful mix of stripes, abstracts and solids stand out in this broad collection. Irregular cuts and contrasts of colours and textures, on the other hand, create retro asymmetries. The result is the perfect balance between function and fashion – a fundamental characteristic of the MAAJI brand. Indeed, the MAAJI "Maajic" has always been in its versatility. Each piece, being reversible, can be adapted to suit the personality of its owner – most noticeable with their multi-way and "4 ways styles" which come in multiple shapes, prints and solid colours. The choices are endless whilst you still have that much needed extra room in your suitcase!
Furthermore, the collection introduces a number of new trending styles such as the V Wire top and Wrap Cami crop top; high-leg and high-waisted bottoms; long-line and banded Triangle tops; halters that morph into triangles; pull-over bralettes and finally 70's tube tops. Details are never overlooked and this season include; lace up, grommets and crochet along with unexpected flirty, open back one-pieces. In addition, their versatile sleeve surf-suits & rash guards now include 50+ UV protections.
Finally, MAAJI now offers x-small and x-large with their signature Sublime bottom and top styles.
So what you waiting for? Time to add that Maajic to your honeymoon wardrobe with the perfect swimwear.
www.maaji.co | @maajiswimwear
#MAAJI | #MAAJISWIMWEAR | #REALMERMAID | #EARTHWARRIORS
Event Date:
Monday, April 8, 2019 - 10:30