Mochi from Ai No Mochi are an exciting and innovative alternative to your standard wedding favours. Mochi are set to be the next big trend in wedding favours!
Choose from delicious flavours such as Raspberry and Coconut Ripple, Vanilla Cheesecake and even Vegan Chocolate Ganache.
Each wedding tries to be better than the previous one and with all weddings having similar favours, mochi are something that most guests will never have seen or tasted before.
The freshly made, bespoke, mochi are a big talking point with their unique exterior texture and creamy soft filling. They can also be colour customised and hand-decorated to tie in with the couple's wedding theme.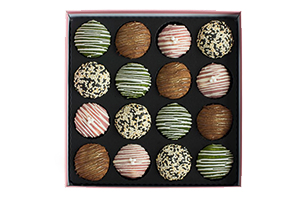 Ai No Mochi can also offer mochi stands so the couple can offer their guests mochi on a stand and everyone can help themselves. This can replace a wedding cake or makes a brilliant, informal dessert option!
A little about Mochi
Mochi is a traditional Japanese sweet made from sweet rice flour with a soft and chewy outside layer and a tasty filling in the centre. The brilliant team behind Ai No Mochi - Hayyan and Kelly - fill their delicious 100% mochi sweets with a variety of traditional and imaginative flavours. Mochi have become extremely popular in the UK over recent months and Ai No Mochi are delighted to now deliver their freshly made, authentic mochi straight to your doorstep!
Where Ai No Mochi all started
Ai No Mochi is a London based company started by best friends Hayyan and Kelly who met at university. They both love Japanese food and after falling in love with mochi they were frustrated by how difficult it was to find fresh mochi in London. The only mochi available were packed with preservatives, weren't fresh, and lacked tasty and imaginative fillings. Japanese savoury food is always best served fresh so why should desserts be any different?
Their cravings for fresh mochi lead to their decision to master the art of mochi making so that they could share their passion with the rest of the UK. Hayyan and Kelly spent seven months developing their recipe for handmade mochi which, not only tasted amazing, but looked the part as well.
The talented duo make their mochi by steaming the sweet rice flour mixture, pounding it, cooling it, filling the mochi and then decorating them - all by hand! Initially their mochi could only be found at select food markets around London, however, a growth in demand quickly lead to the launch of their website and online order service.
You haven't experienced real mochi until you've tried Ai No Mochi….
Website: www.ainomochi.com
Instagram: @ainomochi
Twitter: @ainomochi