At a time of the year when many couples are celebrating getting engaged over Christmas, or planning proposals for Valentine's Day, two Leicestershire businessmen are guaranteeing your dancefloors will be full. The guys behind Your Wedding Entertainment have put together their top tips for mind-blowing wedding entertainment.
Firstly couples should ensure that they avoid the That'll Do approach when it comes to wedding entertainment. It shouldn't just be a DJ in the corner or a band going through the motions - this is what people will remember from your wedding, make sure your guests go home with smiles.
It's also important to remember that wedding entertainment isn't just about the evening. Whether it's a harpist at the ceremony or a magician hypnotising your mother in law over canapes, you can really add a special touch to your day.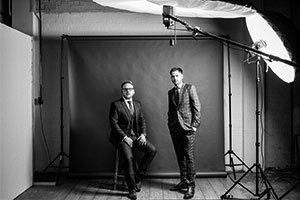 Cater for everybody but don't sacrifice your own wishes. This is your special day and whilst you want to make sure your guests enjoy themselves, you want to have the best day ever too. A top wedding band will be able to mix up genres and cater for all wishes, so make sure you speak openly to the band about their setlist and how they can bring out styles to suit a range of tastes.
The truth is that wedding entertainment is often the key to the smooth running of a wedding. Just think about how music can signal that the day is moving from one part to the next. If your wedding entertainment is carefully planned you can avoid any potential lulls in the day. You don't even need to worry about the timings on the day with Your Wedding Entertainment who provide an Entertainment Co-ordinator so your day is hassle free.
Most importantly it's about your story. No two wedding should ever be the same and neither should the entertainment. Make it unique to you - your songs, your personality , your special day. Don't ever be fobbed off by a band or DJ with a set playlist that isn't bespoke to you.
With years of experience at the top of the wedding industry, Your Wedding Entertainment are a full service premium wedding entertainment co-ordination company who offer a personal guarantee that your dancefloor will be full. You can download their full top tips for Mind-blowing Wedding Entertainment at www.yourwedding-entertainment.co.uk.