Many of the weddings that we plan are either destination weddings or weddings that are far enough away that guests spend the night in a hotel. We have found that a really lovely and personal touch to treat guests who travel from both near and far is to surprise them with a welcome bag upon arrival to wherever they are staying. It really sets the tone for the wedding and kicks the weekend off on a positive, cheerful note! They are a great way to say "Hello! We're delighted to have you celebrate with us." As well as little treats, the welcome bags contain useful information about the celebration and the local area. 
Lavinia Stewart-Brown, founder of Stewart-Brown Events - a luxury wedding and event planning company, recommends including some essentials that guests will need to navigate the weekend including: 
-    An itinerary for the wedding weekend and a map of how to get to and from the ceremony to the reception venue. Also include logistical info such as timings and addresses so that guests know exactly where they need to be and when! 
-    A map of the area with sightseeing tips and any local hot spots the couple love.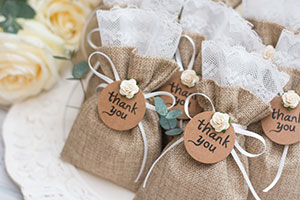 -    Make it personal with a handwritten thank you card to each and every guest who has come! The more personal, the better. 
Aside from the essentials, we recommend also including: 
-    A couple of water bottles for hydration! 
-    Sweet and savoury snacks including biscuits, popcorn, crisps, nuts, candy, etc. Depending on the location, you can include something specialised to that area such as Shortbread cookies for Scotland. We always find that the snacks go down a treat upon arrival or the day after the celebration! 
-    Mini bottles of champagne, wine or beer 
-    Emergency items are always useful too including miniature hangover kits filled with painkillers, eye masks, and a vitamin tablet or sachet of rehydration powder.  
As for the design of the bag itself, there are so many beautiful options! You could go with a tote bag that has your initials embroidered on the outside or lovely paper bags tied up with a bow. Some couples opt for a box wrapped up with flowers or eucalyptus on the outside.  
You can also plan according to your wedding theme. For example, if you are having a beach wedding, we'd suggest giving all guests a beach tote with sunglasses, sunscreen, etc. Etsy have some adorable options to choose from. 
To get the welcome bags to your guests, we will work closely with the hotels and accommodation where we've blocked off rooms for guests. The hotels will distribute the bags to guests as they check in. 
A lovely little gift that will surprise your guests and kick off the celebrations on the perfect note.